Publication:
Síntesis y evaluación de heterociclos activos para el diagnóstico precoz y tratamiento de enfermedades cerebrales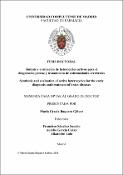 Files
Authors
Advisors (or tutors)
Editors
Publisher
Universidad Complutense de Madrid
Abstract
De acuerdo con la Fundación Americana del Cerebro, "las enfermedades cerebrales se manifiestan de muy distintas maneras, y reciben diferentes denominaciones". Efectivamente, las enfermedades del cerebro presentan una alta incidencia en la población, afectando 1 de cada 6 personas En el mundo, lo que supone un gran reto para la sociedad tanto desde un punto de vista socioeconómico como sanitario. El presente trabajo de tesis doctoral se ha centrado en desarrollo de heterociclos para el diagnóstico y tratamiento de enfermedades cerebrales, en particular, Enfermedad de Alzheimer (EA) y glioblastoma multiforme (GBM). EA es una enfermedad neurodegenerativa perteneciente a un grupo de patologías denominadas tauopatías, que se caracterizan por los depósitos anormales de proteína tau en el cerebro, en forma de agregados de la misma, ubicados en el interior de las neuronas y denominados ovillos neurofibrilares. El mayor problema que presenta actualmente EA es su diagnóstico, pues el daño cerebral se produce años antes de la aparición de los primeros síntomas...
According to the American Brain Foundation: "Brain disease comes in many different forms, and goes by many different names". It affects 1 out of 6 people worldwide, which entail important challenges of all societies from a medical and socio-economic perspective. This work is focused in developing novel heterocyclic molecules for the early diagnosis and treatment of brain diseases and particularly we focused on Alzheimer's disease and Glioblastoma multiforme (GBM). AD is a well-known neurodegenerative disease, and belongs to a family of tauopathies, which are characterized by the deposition of aberrant tau protein aggregates forming neurofibrillary tangles inside the neurons. Early and accurate diagnosis is critical in treatment of AD but remains an unmet challenge as development of potent diagnostic tools for an early and reliable diagnose will increase the success of any applied therapy for the treatment of AD. A major challenge in GBM therapy and diagnosis remains the presence of the blood-brain barrier which limits 98% of novel compounds from reaching the brain in theragnostic concentrations...
Description
Tesis inédita de la Universidad Complutense de Madrid, Facultad de Farmacia, leída el 30-10-2020
Collections