Publication:
Chromatic perception of non-invasive lighting of cave paintings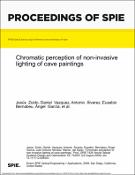 Advisors (or tutors)
Editors
Abstract
This work is intended to deal with the problems which arise when illuminanting Paleolithic cave paintings. We have carried out the spectral and colorimetric characterization of some paintings located in the Murcielagos (bats) cave (Zuheros, Córdoba, Spain). From this characterization, the chromatic changes produced under different lighting conditions are analysed. The damage function is also computed for the different illuminants used. From the results obtained, it is proposed an illuminant whose spectral distribution diminishes the damage by minimizing the absorption of radiation and optimises the color perception of the paintings in this cave. The procedure followed in this study can be applied to optimise the lighting systems used when illuminating any other art work.
Description
Proc. SPIE 7429, Novel Optical Systems Design and Optimization XII, 742907 Event: SPIE Optical Engineering + Applications, 2009, San Diego, California, United States Copyright 2009 Society of Photo Optical Instrumentation Engineers. One print or electronic copy may be made for personal use only. Systematic reproduction and distribution, duplication of any material in this paper for a fee or for commercial purposes, or modification of the content of the paper are prohibited.
Collections