Publication:
ICT support for the retention and consolidation of knowledge in the classroom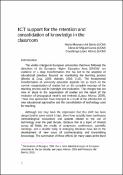 Advisors (or tutors)
Publisher
Cambridge Scolars Publishing
Abstract
The methodological change are addressing universities in Europe, following the introduction of new educational approaches and the implementation of new technologies in teaching, forces, teachers and students, to support and take on new ways of understanding the teaching / learning (Benito and Cruz, 2005; Ashwin, 2006). The fundamental transformation of university learning, however, depends less on the reorganization of the studies, though this is of great importance for relation with existing plans, and the completely different conception of the teaching / learning its monitoring and evaluation. The proposed consolidation of theoretical knowledge related to the lecture is usually circumscribe the classroom and among them, we highlight the activities interspersed throughout the course of the class; or following Bligh (1971), asking questions to students about the content of the lecture at the end of the session, since it requires actively reviewing the above it; and in the same line, the proposed Nilson (1998: 77), conducting a review after the conference. However, none of these authors, who have proven the effectiveness of the proposed actions, offers information on one aspect that, in our view, should be considered: whether the retention of learning is now consolidated in the medium term and extent that first retention may intervene to address the matter test or the results. Initiatives regarding retention and consolidation of knowledge confined to the classroom predate the use of virtual campus teaching. Therefore, what we propose in this study is the use of TICE in activities aimed at retention and consolidation of knowledge through what we call learning microarrays. The microarrays can have a simple scenario, only the classroom, or mixed scene inside and outside the classroom, in activities of greater breadth and depth (López Alonso and Matesanz, 2009). These short activities have a small methodological approach and implementation to virtual campus, in this case with the LAMS tool.
El cambio metodológico que están abordando las universidades en Europa, como consecuencia de la introducción de nuevos enfoques educativos y la implantación de las nuevas tecnologías en el ámbito docente, obliga, a profesores y a alumnos, a apoyar y asumir nuevas formas de entender la enseñanza/aprendizaje (Benito y Cruz, 2005; Ashwin, 2006). La transformación de fondo del aprendizaje universitario, sin embargo, no depende tanto de la reorganización de los estudios, por más que ésta sea de gran envergadura en relación con los planes vigentes, como de la concepción completamente distinta de los procesos de enseñanza/aprendizaje y de su control y evaluación. Las propuestas de consolidación de conocimiento teóricos ligados a la clase magistral se suelen circunscribir al aula y, entre ellas, destacamos las actividades intercaladas en el transcurso de la clase; o siguiendo a Bligh (1971), formulando preguntas a los alumnos sobre el contenido de la clase magistral al final de la sesión, puesto que exige repasar activamente lo expuesto en ella; y, en la misma línea, la propuesta de Nilson (1998: 77), realizando un examen tras la conferencia . Sin embargo, ninguno de los autores citados, que han comprobado la efectividad de las actuaciones propuestas, ofrece datos sobre un aspecto que, desde nuestro punto de vista, debe tenerse en cuenta: si esa retención del aprendizaje pasa a consolidarse a medio plazo y en qué medida esa retención primera puede intervenir al afrontar examen de la materia o en los resultados obtenidos. Las iniciativas en relación con la retención y consolidación del conocimiento circunscritas al aula son anteriores al uso de los campus virtuales en la actividad docente. Por esta razón, lo que planteamos en este estudio es el uso de las TICE en actividades encaminadas a la retención y consolidación del conocimiento a través de lo que hemos denominado microsecuencias de aprendizaje. Las microsecuencias pueden tener un escenario simple, únicamente el aula, o mixto, escenario dentro y fuera del aula, en actividades de mayor extensión y profundidad (López Alonso y Matesanz, 2009). Estas actividades breves cuentan con un pequeño planteamiento metodológico y una implementación para campus virtual, en este caso con la herramienta LAMS
Description
Versión completa con notas
Collections