Publication:
Atemporalización y presentificación del mundo social en la sociología contemporánea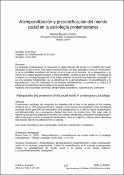 Authors
Advisors (or tutors)
Editors
Publisher
Universidad Complutense de Madrid
Abstract
La sociología contemporánea ha reconocido el papel relevante del tiempo en el análisis del mundo desbocado en que vivimos. Este interés creciente resulta, con todo, paradójico ya que el reconocimiento de la centralidad sociológica del tiempo va de la mano de la denuncia de su desaparición o, al menos, de su radical desestructuración y disfuncionalidad. Resulta así que ese tiempo reivindicado se convierte en un tiempo desaparecido. Este trabajo pretende reconstruir este diagnóstico paradójico en sus tres variantes fundamentales que se denominan de la atemporalización, la presentificación y la espacialización. Una vez analizadas en sus distintas manifestaciones, se procede a su crítica y al esbozo de una alternativa que no caiga en los errores detectados.
Contemporary sociology has recognized the important role of time in the analysis of the runaway world we live in. This growing interest is, however, ironic because the recognition of the sociological centrality of time goes with the denunciation of its disappearance or at least its radical disorganization and disfunctionality. As a consequence claimed time turns into missing time. This paper seeks to rebuild this paradoxical diagnosis in its three core variants: atemporality, presentism and spacelization. After analyzing its various sociological manifestations, these are subject to criticism and an alternative that does not fall into the detected errors is outlined.
Collections