Publication:
Gestión de birrefringencia y dependencia térmica en espectómetros de transformada de Fourier integrados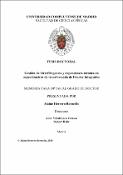 Files
Authors
Advisors (or tutors)
Editors
Publisher
Universidad Complutense de Madrid
Abstract
La espectrometría de transformada de Fourier es una de las técnicas de análisis espectral más utilizadas en nuestros días, con un amplio rango de aplicaciones que abarcan el análisis de compuestos complejos y de sistemas dinámicos, la espectroscopía biológica y biomédica, o el análisis atmosférico y aeronáutico, entre otros [1]-[3]. Estos sistemas proporcionan una elevada calidad espectral y resolución, unidos a un elevado rendimiento óptico [4], [5] y a bajos tiempos de cálculo facilitados por los recientes avances computacionales. El auge de la óptica integrada vivido en los últimos años ha impulsado la miniaturización de este tipo de espectrómetros, trasladando todo el potencial de esta tecnología al tamaño de un chip. Con soluciones compactas de alta resolución tanto en el infrarrojo cercano como en el infrarrojo medio [6]-[10], los microespectrómetros de transformada de Fourier presentan un potencial disruptivo en múltiples aplicaciones como microsatélites, microdrones, espectrómetros de mano, o sensado de gases en edificios y parkings inteligentes...
Fourier transform spectrometry is one of the most widespread spectral analysis techniques nowadays, with diverse applications such as composite complex and dynamic system analysis, biomedical and biological spectroscopy or atmospheric and aeronautic analysis, among many others [1]-[3]. These systems provide a high spectral quality and resolution, as well as an enhanced optical throughput [4], [5] and reduced calculation times provided by recent computing advances. The growth experienced by integrated optics in recent years has promoted the miniaturization of this type of spectrometers, translating the potential of this technology to the chip scale. With compact and high-resolution solutions in the near and mid infrared [6], [7]-[10], Fourier transform microspectrometers provide a disruptive potential in applications such as microsatellites, microdrones, hand-held spectrometers or gas sensing in smart buildings and parking lots...
Description
Tesis inédita de la Universidad Complutense de Madrid, Facultad de Ciencias Físicas, leída el 11-11-2020
Collections