Publication:
Complete and ready simulation semantics are not finitely based over BCCSP, even with a singleton alphabet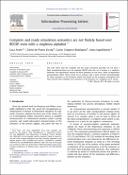 Authors
Advisors (or tutors)
Editors
Abstract
This note shows that the complete and the ready simulation preorders do not have a finite inequational basis over the language BCCSP when the set of actions is a singleton. Moreover, the equivalences induced by those preorders do not have a finite (in)equational axiomatization either. These results are in contrast with a claim of finite axiomatizability for those semantics in the literature, which was based on the erroneous assumption that they coincide with complete trace semantics in the presence of a singleton set of actions.
Collections