Publication:
Tropos, secuencias y polifonía en la Biblioteca Histórica de la UCM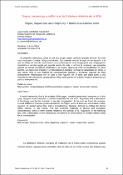 Authors
Advisors (or tutors)
Editors
Publisher
Biblioteca Histórica de la Universidad Complutense de Madrid.
Abstract
Un pequeño manuscrito como el que nos ocupa puede contener grandes tesoros. En este caso musicales. O mejor, litúrgico-musicales. Su contenido central: la regla de san Agustín, a la que se añade un libro de costumbres con una descripción de la liturgia para una congregación monástica o secular regida por aquella norma de vida. Y al final la sorpresa: una pequeña adición de prosas monódicas dedicadas a la Virgen, alguna de ellas no localizadas en otras fuentes, un Agnus Dei tropado y un Benedicamus Domino -fórmula de despedida del oficio- a dos voces, éste si con multitud de concordancias ibéricas y europeas, algunas de ellas directamente relacionadas con el culto a San Agustín. En el texto que sigue junto a una descripción del manuscrito, presentamos todas estas piezas en edición moderna preparada ya para su interpretación."
A small manuscript, that is the subject of this paper, contains great music treasures or, in this case, liturgical music treasures. It contains basically the rule of St. Augustine and a description of the liturgy used by the monastic or secular congregation. At the end, we found the surprise: a small addition of monodic proses devoted to the Virgin, some of them are not located in other sources, an Agnus Dei as a trope and a Benedicamus and Domino -formula to ending the Divine Office service- in two voices. The last presents multitude of Iberian and European concordances, some of them directly related to the worship of St. Augustine. In the following text, with a description of the manuscript, we present all these pieces in modern edition ready for its interpretation.
Collections