Publication:
Análisis del impacto del Covid persistente sobre los cuidados en las parejas heterosexuales.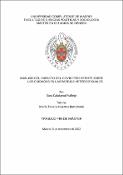 Authors
Advisors (or tutors)
Editors
Abstract
Numerosas personas desde marzo 2020 tienen COVID persistente, una enfermedad invisible para la sociedad, para el Estado y para las instituciones médicas, que da lugar a una estigmatización en las personas enfermas. La presente investigación tiene como objetivo profundizar en cómo el COVID persistente ha afectado en el marco de las relaciones heterosexuales, en especial a la distribución de los cuidados. Para ello, se ha llevado a cabo una investigación de corte cualitativa en el territorio aragonés sobre la que se han podido extraer cinco bloques temáticos para analizar las diferencias de género. Nueve parejas heterosexuales se presentaron voluntarias a las que se les realizaron de manera separada 43 preguntas sobre los cuidados del hogar, los cuidados de personas dependientes, el cuidado que recibe de la pareja, el autocuidado y los apoyos institucionales. Los resultados desvelan que el COVID persistente afecta de manera diferente en la cotidianidad de hombres y mujeres, tanto en los cuidados, como en las preocupaciones, en el estado emocional o en el apoyo de distintos organismos que han percibido. Se hace necesaria una mirada feminista que tenga en cuenta determinados términos para la comprensión de este fenómeno, como la división sexual del trabajo o la socialización y los roles de género impuestos
Several people have developed Long COVID since March 2020, an invisible illness for our society, for our States, and for the medical institutions, that stigmatizes of sick individuals. The main purpose of the study was to analyze the effect of Long Covid in the context of the heterosexual relationships, with special attention to the care distribution. For this purpose, it was carried out qualitative research within the Aragon territory which has led 5 thematic groups to study the gender difference. Nine heterosexual couples were voluntaries for answering in separately from each other 43 questions about home care, the care of dependent persons, self-care, and institutional support. The results show that Long COVID affects men and women in different ways referred to daily life. This includes care, concerns, emotional state and how they perceive the support of organizations. It's necessary to face this issue from feminist standpoint to take in account specific terms that provide an understanding about this phenomenon, such as the sexual division of labor or the socialization and imposed gender roles.