Publication:
Perfil actual de las personas sin hogar en el municipio de Madrid: evolución, características y tendencias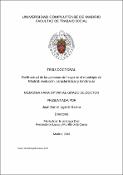 Files
Authors
Advisors (or tutors)
Editors
Publisher
Universidad Complutense de Madrid
Abstract
La presente tesis doctoral parte de la hipótesis de que la actual situación económica y laboral del país ha supuesto una modificación en las características de las personas sin hogar, suponiendo ello la aparición de nuevos perfiles. Estos nuevos perfiles suponen una modificación en el tipo de usuarios que hacen uso de la red de recursos de personas sin hogar del municipio de Madrid. Esto podría deberse a que los factores de riesgo que actualmente determinan la situación de sinhogarismo han variado orientándose en su mayoría a factores derivados de la situación actual española.Por ello nos propusimos como objetivos estudiar las características actuales del colectivo de personas sin hogar en el municipio de Madrid, así como evaluar los cambios producidos en las características de dicha población averiguando los factores de riesgo que hoy en día derivan a una persona al sinhogarismo.Para alcanzar dichos objetivos se contactó con el Samur Social, servicio del Ayuntamiento de Madrid, quienes nos cedieron los datos en bruto extraídos de los cuestionarios del Recuento Nocturno de Personas Sin Hogar del municipio de Madrid desde el año 2006 hasta 2016, lo que supuso una muestra de 4.498 personas. Para la obtención de los resultados se realizó una estadística descriptiva e inferencial. Los datos fueron divididos en 7 bloques en los que se analizaron datos sociodemográficos, historias de vida, sucesos vitales estresantes, empleo y recursos económicos, salud, utilización de servicios y percepción de la situación y perspectivas de futuro...
This Doctoral Thesis is based on the hypothesis that the current economic and labor situation in Spain has led to a change in the characteristics of homeless, which means that new profiles are emerging. These new profiles represent a modification in the type of users that make use of the network of resources for homeless people of the municipality of Madrid. This could be due to the fact that the risk factors that currently determine the situation of homelessness have varied, being oriented mainly to factors derived from the current Spanish situation.Therefore we proposed as objectives to study the current characteristics of homeless people in the municipality of Madrid, as well as to evaluate the changes produced in the characteristics of this population, finding out the risk factors that nowadays derive a person to the homelessness.To reach these objectives we contacted with Samur Social, a service of the City of Madrid, who gave us the raw data, extracted from the questionnaires of the Homeless People Count of the municipality of Madrid from 2006 to 2016, with a sample of 4,498 people. To obtain the data, a descriptive and inferential statistic was performed. The data were divided into 7 blocks that analyzed sociodemographic data, life histories, stressful life events, employment and economic resources, health, use of services and perception of the situation and future prospects...
Description
Tesis de la Universidad Complutense de Madrid, Facultad de Trabajo Social, leída el 22-06-2017
Collections