Publication:
Estudio de metilación en lesiones orales potencialmente malignizables. Estudio piloto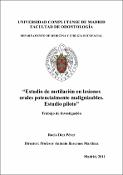 Authors
Advisors (or tutors)
Editors
Citation
1. Oliver RJ, Dearing J, Hindle I. Oral cancer in young adults: Report of three cases and review of the literature. Br Dent J 2000; 188: 362-5. 2. Sánchez-Céspedes M, Esteller M, Wu L et al. Gene promoter hypermethylation in tumors and serum of head and neck cancer patients. Can Res 2000; 60: 892-5. 3. Scully C. Oncogenes, tumor suppressors and viruses in oral squamous carcinoma. J Oral Pathol Med 1993; 22: 337-47. 4. Femiano F, Scully C. DNA cytometry of oral leukoplakia and oral lichen planus. Med Oral Patol Oral Cir Bucal 2005; 10(1): 9-14. 5. Kulkarni V, Saranath D. Concurrent hipermethylation of multiple regulatory genes in chewing tobacco associated oral squamous cell carcinomas and adjacent normal tissues. Oral Oncol 2004; 40: 145-53. 6. Lin WJ, Jiang RS, Wu SH, Chen FJ, Liu SH. Smoking, Alcohol, and Betel Quid and Oral Cancer: A Prospective Cohort Study. J Oncol 2011; 17:1-5. 7. Banoczy J, Gintner Z, Dombi C. Tobacco use and oral leukoplakia. J Dent Educ 2001; 65: 322-7. 8. Hasegawa M, Heather HN, Peters E, Ringstrom E, Posner M and Kelsey KT. Patterns of gene promoter methylation in squamous cell cancer of the head and neck. Oncogene 2002; 21: 4231-6. 9. Balderas-Loaeza A, Anaya-Saavedra G, Ramirez-Amador VA et al: Human papillomavirus-16 DNA methylation patterns support a casual association of the virus with oral squamous cell carcinoma. Int J Cancer 2007; 120: 2165-9. 10. Feinberg AP, Vogelstein B. A technique for radiolabeling DNA restriction endonuclease fragments to high specific activity. Anal Biochem 1983; 132(1): 6-13. 11. Jones PA, Baylin SB. The fundamental role of epigenetic events in cancer. Nat Rev Genet 2002; 3: 415-28. 12. Shaw R. The epigenetics of oral cáncer. Int J Oral Maxillofac Surg 2006; 35(2): 101-8. 13. Antequera F, Boyes J, Bird A. High levels of de novo methylation and altered chromatin structure at CpG islands in cell lines. Cell 1990; 62(3): 503-14. 14. Ha PK, Califano JA. Promoter methylation and inactivation of tumour-suppressor genes in oral squamous-cell carcinoma. Lancet Oncol 2006; 7 (1): 77-82. 15. Viet CT, Jordan RC, Schmidt BL. DNA promoter hypermethylation in saliva for the early diagnosis of oral cancer. J Calif Dent Assoc 2007; 35(12): 844-9. 16. Rosas S, Kock W, Carvalho MG et al. Promoter hypermethylation patterns of p16, O6-methylguanine-DNA-methyltransferase, and death-associated protein kinase in tumours and saliva of head and neck cancer patients. Cancer Research 2001; 61: 939-42. 17. Nawroz H, Koch W, Anker P, Stroun M and Sidrannsky D. Microsatellite alterations in serum DNA of head and neck cancer patients. Nat Med 1996; 2(9); 972-4. 18. Shapiro CM, Bitran JD, Shapiro RA. Remission of metastatic adenocarcinoma of the colon. JAMA 1983; 250(18): 2503-4. 19. Leon SA, Shapiro B, Sklaroff DM, Yaros MJ. Free DNA in the serum of cancer patients and the effect of therapy. Cancer Res 1977; 37(3): 646-50. 20. Kato K, Hara A, Kuno T et al: Aberrant promoter hypermethylation of p16 and MGMT genes in oral squamous cell carcinoma and the surrounding normal mucosa. J Cancer Res Clin Oncol 2006; 132 (11): 735-43. 21. Guo XL, Sun SZ, Wang WX, Wei FC, Yu HB, Ma BL. Alterations of p16INK4a tumour suppressor gene in mucoepidermoid carcinoma of the salivary glands. Int J Maxillofac Surg 2007; 36(4): 350-3. 22. Roth M, Abnet CC, Hu N et al. p16, MGMT, RARβ2, CLDN3 and MT1G gene methylation in esophageal squamous cell carcinoma and its precursor lesions. Oncol Rep 2007; 15: 1591-7. 23. Ruesga MT, Acha-Sagredo A, Rodríguez MJ et al. p16INK4a promoter hypermethylation in oral scrapings of oral squamous cell carcinoma risk patients. Cancer Lett 2007; 250: 140-5. 24. López M, Aguirre JM, Cuevas N et al. Gene promoter hypermethylation in oral rinses of leukoplakia patients-a diagnostic and/or prognostic tool?. Eur J Cancer 2003; 39: 2306-9. 25. Takeshima M, Saitoh M, Kusano K et al. High frequency of hypermethylation of p14, p15 and p16 in oral pre-cancerous lesions associated with betel-quid chewing in Sri Lanka. J Oral Pathol Med 2008; 37(8): 475-9. 26. Hall GL, Shaw RJ, Field EA et al. P16 promoter methylation is a potential predictor of malignant transformation in oral epithelial dysplasia. Can Epid Biomarkers Prev 2008; 17(8): 2174-9. 27. Shapiro CM, Bitran JD, Shapiro RA. Remission of metastatic adenocarcinoma of the colon. JAMA 1983; 250(18): 2503-4. 28. Sawhney M, Rohatgi N, Kaur J et al. MGMT expression in oral precancerous and cancerous lesions: Correlation with progression, nodal metastasis and poor prognosis. Oral Oncol 2007; 43: 515-22. 29. Lee ES, Issa JP, Roberts DB et al. Quantitative promoter hypermethylation analysis of cancer-related genes in salivary gland carcinomas: Comparison with methylationspecific PCR technique and clinical significance. Clin Cancer Res 2008; 14(9); 2664-72. 30. Huang J, Shen W, Li B, Liao S, Zhang W, Cheng N. Molecular and inmunohistochemical study of the inactivation of the p16 gene in primary hepatocellular carcinoma. Clin Med J 2000; 31 (8): 443-9. 31. Esteller M, Sanchez-Cespedes M, Rosell R, Sidransky D, Baylin SB, Herman JG. Detection of aberrant promoter hypermethylation of tumor suppressor genes in serum DNA from non-small cell lung cancer patients. Cancer Res 1999; 59(1): 67-70. 32. Von Zeidler SV, Miracca EC, Nagai MA, Birman EG. Hypermethylation of the p16 gene in normal oral mucosa of smokers. Int J Mol Med 2004; 14: 807-11. 33. Amagasa T, Yamashiro M, Ishikawa H. Oral leukoplakia related to malignant transformation. Oral Sci Int 2006; 3:45–55. 34. Herman JG, Grafft JR, Myohanen S, Nelkin BD, Baylin SB. Methylation-specific PCR: A novel PCR assay for methylation status of CpG islands. Proc Natl Acad Sci 1996; 93: 9821-6. 35. Derks S, Lentjes MH, Hellebrekers DM, de Bruïne AP, Herman JG, van Engeland M. Methylation-specific PCR unraveled. Cell Oncol 2004;26(5-6):291-9. 36. Campo-Trapero J, Cano-Sánchez J, Palacios-Sánchez B, Sánchez-Gutierrez JJ, Gonzalez-Moles MA, Bascones-Martinez A. Update on Molecular Pathology in Oral Cancer and Precancer. Anticancer Res 2008; 28: 1197-208. 37. Yang B, Guo M, Herman JG, Clark DP. Aberrant promoter methylation profiles of tumor suppressor genes in hepatocellular carcinoma. Am. J. Pathol 2003; 163: 1101-7. 38. Reed AL, Califano J, Cairns P, Westra WH, Jones RM, Koch W. High frequency of p16 (CDKN2⁄MTS-1⁄INK4A) inactivation in head and neck squamous cell carcinoma. Cancer Res 1996; 56: 3630–3.