Publication:
Climate change and maladaptive wing shortening in a long-distance migratory bird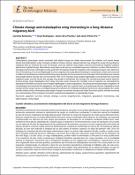 Advisors (or tutors)
Editors
Abstract
Contemporary phenotypic trends associated with global change are widely documented, but whether such trends always denote trait optimization under changed conditions remains obscure. Natural selection has shaped the wings of long-distance migratory birds to minimize the costs of transport, and new optimal wing shapes could be promoted by migration patterns altered due to global change. Alternatively, wing shape could vary as a correlated response to selection on other traits favored in a changing environment, eventually moving away from the optimal shape for migration and increasing transport costs. Data from 20 yr of monitoring 2 Common Nightingale (Luscinia megarhynchos) populations breeding in central Spain, where environmental conditions for breeding have deteriorated during recent decades due to increased summer drought, show that birds have reduced wing length relative to body size over the period 1995–2014. However, long-winged nightingales survived their first round-trip migration better, and the shorter the average wing length of individuals, the stronger the survival-associated natural selection favoring longer wings. Maladaptive short wings may have arisen because the mortality costs of migration are outweighed by reproductive benefits accrued by short-winged nightingales in these populations. Assuming that the phenotypic integration of morphological and reproductive adaptations of migratory birds has a genetic basis, we hypothesize that the maladaptive trend towards shorter wings may be a correlated response to selection for moderate breeding investment in drying habitat. Our results provide evidence that contemporary phenotypic change may deviate average trait values from their optima, thereby increasing our understanding of the ecological constraints underpinning adaptation to rapid global change.
Numerosos estudios han documentado tendencias fenotípicas asociadas con el cambio global, pero no está claro que dichas tendencias representen siempre la optimización de rasgos en condiciones cambiantes. La selección natural ha modelado las alas de las aves migratorias de larga distancia para minimizar los costes de transporte, de modo que la alteración de los patrones migratorios por el cambio global podría promover nuevas morfologías alares óptimas. Sin embargo, una respuesta correlacionada a la selección de otros rasgos que pudieran ser favorables en un ambiente cambiante podría hacer variar también la forma del ala, alejándola de su óptimo para la migración e incrementando los costes de transporte. De acuerdo con los datos de 20 años de seguimiento de dos poblaciones de ruiseñores comunes (Luscinia megarhynchos) del centro de España, donde la creciente sequía estival ha deteriorado las condiciones ambientales en época de cría durante las últimas décadas, las aves han reducido la longitud de sus alas relativa al tamaño corporal a lo largo del periodo 1995–2014. Sin embargo, los ruiseñores de alas más largas sobrevivieron mejor a su primer viaje migratorio de ida y vuelta, y cuanto menor fue la longitud media del ala de los individuos, más fuerte fue la selección natural por supervivencia de los individuos de alas más largas. Las alas cortas, un rasgo maladaptativo, podrían haber incrementado su frecuencia en estas poblaciones si los ruiseñores de alas cortas compensasen mediante beneficios reproductivos los costes asociados con la mortalidad durante la migración. Asumiendo que la integración fenotípica de las adaptaciones morfológicas y reproductivas de las aves migratorias tiene una base genética, postulamos que la tendencia maladaptativa hacia alas más cortas puede ser una respuesta correlacionada a la selección a favor de una inversión reproductiva moderada en hábitats cada vez más secos. Nuestros resultados muestran que las poblaciones de aves pueden variar desviándose de su óptimo fenotípico, lo que nos ayuda a comprender mejor las restricciones ecológicas que pueden condicionar su adaptación al rápido cambio global.
Collections