Publication:
El patrimonio arquitectónico de Boadilla del Monte: el Palacio del Infante don Luis de Borbón y el Convento de la Encarnación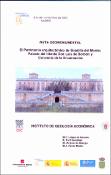 Advisors (or tutors)
Editors
Publisher
Instituto de Geología Económica (IGE-CSIC/UCM)
Abstract
Con motivo de las actividades realizadas durante la III Semana de la Ciencia (2003), el grupo de investigación Petrología Aplicada a la Conservación del Patrimonio del Instituto de Geología Económica (IGE-CSIC/UCM), realizó una Ruta Geomonumental mostrando los materiales pétreos empleados en el patrimonio construido de Boadilla del Monte (Madrid), principalmente en el Palacio del Infante Don Luis de Borbón. Este tipo de recorridos representan una metodología novedosa para la divulgación del patrimonio arquitectónico y monumental desde el punto de vista de los materiales geológicos que lo configuran. El prefijo "Geo" indica el fuerte condicionante geológico que tradicionalmente ha influido en los asentamientos urbanos y en su desarrollo, así como la relación existente entre la arquitectura y la geología, puesto que gran parte de los materiales de construcción se extraen de la tierra. Los materiales pétreos empleados en la construcción del palacio son el ladrillo (originales y de restauración), los morteros (revestimientos y morteros de junta) y la piedra natural (granito y caliza). Los ladrillos originales presentan un avanzado estado de deterioro, estando afectados por procesos de fisuración, arenización o pulverización. Los revestimientos principalmente muestran humedades, descamados y desprendimientos. El granito, procedente de las canteras de Valdemorillo-Zarzalejo, sufre importante procesos de fisuración y arenización. La caliza, extraída en las canteras de Colmenar de Oreja, presenta en general buen estado de conservación. [ABSTRACT] Due to the activities performed during the Third Week of Science (2003), the Applied Petrology for Heritage Conservation Research Group, belonging to the Economic Geology Institute (IGE-CSIC/UCM), carried out a Geomonumental Route where the stone materials used in the built heritage of Boadilla del Monte (Madrid), mainly in the Palacio del Infante Don Luis de Borbón, were shown. The Geomonumental Routes account a different methodology for the cultural and scientific dissemination of built heritage, from the viewpoint of the stone materials, natural and artificial, that shape it. The prefix "Geo" tackles the landscape strongly influences in settlements and their development, and it establishes the relationship between historical sites and geology as well, in the sense that the main resources for building are extracted from the earth. Besides, the behaviour and decay of building materials is hardly influenced by its surrounded environment. The stone materials used at the construction of the palace are brick (original and restored), mortars (coatings and joint mortars) and natural stone (granite and limestone). The original bricks show an advanced state of decay, being affected by processes of cracking and surface pulverization. The coatings mainly suffer dampness, peeling and flaking. The granite, from the quarries of Valdemorillo-Zarzalejo, presents major cracking and surface pulverization processes. Limestone, extracted in the quarries of Colmenar de Oreja, generally displays a state of conservation quiet good.