Publication:
Estudio comparativo de los modelos de estimación de riesgo cardiovascular para la población española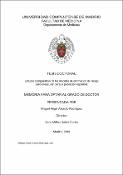 Files
Authors
Advisors (or tutors)
Editors
Publisher
Universidad Complutense de Madrid
Abstract
Las enfermedades cardiovasculares continúan liderando las causas por mortalidad en nuestro medio y son una importante fuente de morbilidad para la población, constituyendo un importante problema de Salud Pública. En el siglo pasado, la comunidad científica aunó esfuerzos por lograr modelos estadísticos predictivos acerca del riesgo cardiovascular de la población mediante métodos de regresión logística. El primero en confeccionarse fue el modelo americano, sobre la población de Framingham y que ha constituido el paradigma de los modelos subsiguientes. Posteriormente, algunos autores descubrieron discordancias al aplicar tal modelo sobre diferentes poblaciones no americanas (entre ellas europeas), lo que llevó a la conclusión de que se necesitaría un modelo diferente para el continente europeo. Ello se fundamentó en la diferente distribución en la prevalencia de los factores de riesgo cardiovascular que constituyen la esencia de los modelos. Ese modelo fue llamado, por su acrónimo, SCORE. No obstante, años más tarde se constataron nuevas discordancias cuando se aplicaba el modelo europeo a las diferentes poblaciones europeas, por lo que se optó por dividir a los países según presentaran alto o bajo riesgo cardiovascular, realizando un modelo para cada grupo. Actualmente se dispone de una versión de esta herramienta en internet, con el fin de hacerla más accesible. A nivel de la nación española se confeccionaron dos modelos con metodología diferente: REGICOR fue realizado sobre una población mediterránea concreta (Girona) y DORICA fue realizada recolectando datos sobre la prevalencia de los factores cardiovasculares de nueve comunidades autónomas. En cuanto a las variables participantes en cada modelo de estimación del riesgo cardiovascular hay algunas diferencias, sin embargo, la edad, la presencia o ausencia de Diabetes Mellitus, la presencia o ausencia de tabaquismo, presión arterial, colesterol y el género son constantes. Algunos modelos utilizan la presión arterial incluyendo solo la presión arterial sistólica (PAS) y otros usan el mayor valor entre la presión arterial sistólica y la presión arterial diastólica (PAD). También hay modelos que permiten la estimación de riesgo cardiovascular con la cifra de colesterol unido a lipoproteínas (c-LDL), en lugar de usar la cifra del colesterol total...
Cardiovascular diseases are still leading not only causes of mortality in our countries but they are also an important source of morbidity for our population, establishing as an important Public Health problem. In the last century, the scientific community joined efforts to achieve predictive statistical models about the cardiovascular risk of the population through methods of logistic regression. The first to be made was the American model, on the population of Framingham, which has constituted the paradigm of the subsequent models. Later, some authors found disagreements when applying this model to different non-American populations (including European population), which led to the conclusion that a different model for the European continent would be needed. This was based on the existence of different distribution in the prevalence of cardiovascular risk factors which constitute the essence of the models. This model was called, by its acronym, SCORE. However, new differences were found years later when the European model was applied to the different European populations, so it was decided to divide the countries according to whether they had high or low cardiovascular risk, making a model for each group. A version of this tool is currently available on the internet, in order to make it more accessible. At the level of the Spanish nation, two models were made with different methodology: REGICOR was made with a specific Mediterranean population (Girona) and DORICA was made collecting data over the prevalence of cardiovascular factors in nine autonomous communities. There are some differences between variables involved in each model for cardiovascular risk estimation, however, the age, presence or absence of Diabetes Mellitus, the presence or absence of smoking and gender are constant. Some models use the arterial pressure including only the systolic arterial pressure (PAS) and others use the highest value of systolic blood pressure or diastolic blood pressure (PAD). There are also models that allow estimation of cardiovascular risk using cholesterol linked to low-density lipoprotein (c-LDL), rather than total cholesterol...
Description
Tesis inédita de la Universidad Complutense de Madrid, Facultad de Medicina, Departamento de Medicina, leída el 05-07-2017
Collections