Publication:
Filosofía del aula inteligente del S. XXI: críticas urgentes y necesarias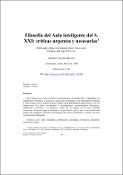 Authors
Advisors (or tutors)
Editors
Abstract
Este estudio trata el aula inteligente (especialmente, el modelo SEK), evaluándose sus fundamentos filosóficos y educativos, además de profundizar en sus principales problemas y retos actuales, con el tránsito al nuevo estadio de la globalización (globalización 2.0). Se diagnostican los fallos coyunturales y paradigmáticos (desmontándose inferencias,imposturas y falacias), y se pronostica acerca de los riesgos de no tomar medidas correctoras. Se presta especial atención al riesgo Kodack, por el que se está dando más énfasis a la inteligencia artificial en el aula que a la humana. Finalmente, se ofrece una serie de propuestas terapéuticas.
This paper analyzes the smart classroom, especially Institution SEK's model. We evaluate its philosophical and educational foundations and diagnose principal problems and challenges in the midst of the current transition to a new stage of globalization (globalization 2.0). We diagnose circumstantial and paradigmatic failures (debunking false inferences, frauds and fallacies along the way), and forewarn of the risks of not taking corrective measures. We pay special attention to the Kodack risk, the emphasis of artificial over human intelligence. Finally, we offer several remedial measures.
Collections