Publication:
Las industrias culturales en relación al binomio derechos culturales-desarrollo. El caso de Cien años de soledad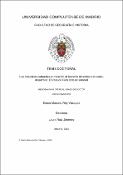 Files
Authors
Advisors (or tutors)
Editors
Publisher
Universidad Complutense de Madrid
Abstract
How the cultural industries generate development was the question that motivate this thesis. The objective is provide, since iberoamerican point of view, that the cultural goods and services through of their symbolic content promote identity and diversity principles; it have a special value chain in function of three cultural rights: legal access, visualization and cultural appropriation and those are capable of generate economical resources for the development of the economies. The answer made necessary formulated a qualitative and quantitative methodology to allow us corroborate the importance of this goods protecting for the copyright. The viability was improve with the study of case about how the literary creation One hundred years of solitude, wrote for Gabriel García Márquez, has promoted development of Colombian editorial sector and enjoyment of intangible heritage in Aracataca, Colombia. The results obtained after more than 350 interviews at population from Aracataca and the analysis of primary and secondary sources about the book, demonstrate your high impact until now and reveal a interesting economic potential of heritage in this part country. Therefore, the first chapter discuss the theoretical context of our object study. The next, development through different examples our vision of cultural rights as interrelates stages of chain value. The third shows why we could understand the economical capital, social capital and cultural capital as axes of the analysis of development since culture, thinking it since Iberoamerica. The fourth chapter presents our methodological proposal focuses in variables and indicators easy to apply and the last two chapters expose the study case. These pages are product of PhD investigation under the orientation of Laura Ruiz Jiménez and have been written for the diploma in doctoral Latin American studies of the Ortega y Gasset Investigation Institute of Madrid-Spain.
Description
Tesis inédita de la Universidad Complutense de Madrid, Facultad de Geografía e Historia, leída el 12/12/2012
Collections