Publication:
Nuevas metodologías sintéticas basadas en alquinos funcionalizados : aplicación a la obtención de carbazoles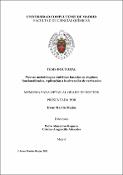 Files
Authors
Advisors (or tutors)
Editors
Publisher
Universidad Complutense de Madrid
Abstract
En el año 1976 se descubrieron los zwitteriones de Koshar, quedando como una curiosidad científica durante largos años. Afortunadamente, en el año 2013 el grupo de Yanai los redescubrieron, optimizando su síntesis y estudiando en profundidad su estructura y sus propiedades. Este estudio provocó que nuestro grupo de investigación se interesara en el comportamiento de esta molécula con diversos sistemas insaturados y heterocíclicos, ya que a partir de dicha molécula en disolución se forma in situ la molécula de Tf2=CH2.Por otra parte, el desarrollo de nuevas metodologías sintéticas para obtener carbazoles siempre ha resultado de gran interés, debido a sus propiedades biológicas y sus aplicaciones en química de materiales. De hecho, hay un gran número de rutas sintéticas en las que se parte del esqueleto del indol, a través de diferentes tipos de carbociclaciones. Por último, las reacciones de carbociclación catalizadas por metales de transición que involucran migración de un átomo de halógeno se han explorado en menor medida. Los halógenos presentes en el material de partida se reincorporan en el producto final permitiendo acceder a moléculas con un gran potencial sintético...
In 1976, Koshar zwitterions were discovered remaining as a scientific curiosity for many years. Fortunatelly, in 2013 Yanai research group rediscovered them, optimizing their synthesis and studying their structure and properties in depth.This study contributed to our research group wondering how this molecule would behave with different unsaturated and heterocyclic systems, thanks to the easy in situ formation in solution of the Tf2C=CH2 molecule from the zwitterion.On the other hand, the development of new synthetic methodologies to obtain carbazoles has always been of great interest, because of their important and remarkable biological properties and their applications in Materials Chemistry. In fact, a large number of synthetic routes have been developed using the indole skeleton as starting material, through different types of carbocyclizations.Finally, transition metal catalyzed carbocyclization methodologies with halogen migration are less explored reactions. Interestingly, the halogens present in the starting material are re-integrated into the final product, which gives molecules with a great synthetic potential...
Description
Tesis inédita de la Universidad Complutense de Madrid, Facultad de Ciencias Químicas, Departamento de Química Orgánica I, leída el 02-12-2021
Collections