Publication:
Geografía política de los cuidados (O por qué la pandemia del coronavirus confinó a buena parte del Norte global)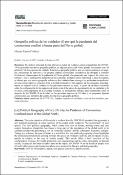 Authors
Advisors (or tutors)
Editors
Publisher
Universidad Complutense de Madrid
Abstract
El objetivo principal de este artículo es poner en evidencia cómo la pandemia de COVID19 ha generado una nueva geografía política, en algunos países del Norte global, relacionada con "el gobierno" de los espacios de cuidado. Esta nueva geografía política, que se expresa entonces en hogares, residencias de mayores y los propios centros asistenciales (hospitales), ha obligado a confinar (lockdown) a buena parte de la población del Norte global y ha generado una "especie de cierre económico", con el consecuente desplome de la economía. Tomando como referencia el caso de España, se afirma que esta nueva geografía política de los cuidados hace emerger las profundas contradicciones que existe entre los espacios de la actividad productiva y los espacios de los cuidados, principalmente en relación con el cuidado de las personas mayores de edad. A partir de un breve recorrido sobre la configuración de los espacios de protección de la salud, de organización de los cuidados y de su crisis, particularmente en la sociedad española, se analizan los últimos datos disponibles sobre el impacto de la COVID-19 en la salud de las personas mayores de 65 años, y se proponen algunas conclusiones que permiten dar cuenta de esta nueva geografía política.
The main objective of this article is to show how the COVID-19 pandemic has generated a new political geography, in some countries of the global north, related to "the government" of care spaces. This new political geography, which comes into view in homes, nursing homes and care centers themselves (hospitals), has forced a large part of the population of the global north to be confined (lockdown) generating a sort of "economic closure" and the subsequent economic collapse. Taking as a reference the case of Spain, it is stated that this new political geography of care highlights the profound contradictions existing between the spaces of productive activity and the spaces of care, mainly in relation to the care of elderly people. This article offers a brief overview of the configuration of spaces for health protection, care organization and its crisis, particularly in Spanish society. It analyzes the latest available data on the impact of COVID-19 on the health of people over 65 and it offers some conclusions that allow us to account for this new political geography.
Collections