Publication:
La imagen de la mujer en el cine árabe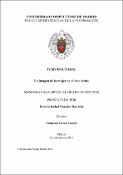 Files
Authors
Advisors (or tutors)
Editors
Publisher
Universidad Complutense de Madrid
Abstract
La filmografía árabe contemporánea, refleja el cambio que se está produciendo en el rol de la representación femenina en el mundo árabe actual, manifestándose a través del punto de vista de realizadores árabes de ambos sexos, quienes se valen del séptimo arte como medio de proyección para reflejar este cambio, logrando un cine directo y curioso, que busca respuestas y sobre todo trata de acercarse a los temas menos explorados en sus antecedentes filmográficos. El estudio se centra en la figura de la mujer en el cine árabe contemporáneo, con el objetivo de analizar qué imagen presenta el cine árabe sobre la mujer, su protagonismo en el relato, los temas que la aluden, los problemas políticos, sociales, religiosos y amorosos que enfrenta.Uno de los factores que ha favorecido la imagen de la mujer en el citado cine, es la situación social y política que acontece en el mundo árabe en la actualidad, ya que el fenómeno de la Primavera Árabe, ha dado paso al surgimiento de jóvenes cineastas que tratan temas sociales desde una perspectiva y visión sociológica profunda.El avance de las mujeres como realizadoras ha sido el detonante que ha posicionado a la mujer emancipada en la pantalla, estas mujeres se han apropiado del espacio cinematográfico enfrentando a la doble censura del régimen y a la de los hombres, para convertir el ámbito cinematográfico en un punto de sublevación femenina...
The contemporary arab filmography reflects the change being portrayed on the rol of the femenino representation in the current arab world, manifesting itself through the perspective of arab filmmakers of both sexual genres, whom use this seventh art as a projection platform to reflect such change, achieving a curious and direct cinema which searches answers and, above all, tries to approach lesser explored topics in its filmography background.The study is entered in the female figure in the contemporary arab cinema with the purpose of analysing the image arab cinema presents of women, their protagonist in the tale, the topics which refer to her, the political, social, religious and romantic problems which she faces. One of the factors which has favoured the female image in the mentioned cinema is the social and political situation that takes place in the present arab world considering that the Arab Spring has been the door-opening phenomenon and breeding grounds for young filmmakers who have demonstrated and invested interest in speaking about social problems from a deep sociology insight and deep perspective.The progress of females in the directive chair has been the powerful detonator which has impulsed that emancipated woman on the big screen...
Description
Tesis de la Universidad Complutense de Madrid, Facultad de Ciencias de la Información, Departamento de Teoría y Análisis de la Comunicación, leída el 18-12-2018
Collections