Publication:
Abduction, Bayesianism and Best Explanations in Physics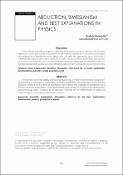 Authors
Advisors (or tutors)
Editors
Abstract
This article claims the validity of abductive reasoning, or inference to the best explanation, as a practice of discovery of explanatory scientific hypotheses. Along the way to achieve this objective I present here a series of arguments that question the feasibililty of Bayesianism as a theory of scientific confirmation. Having solved this issue, I resort to an episode of contemporary astrocosmology that I interpret as an eloquent example of the effectiveness of abductive methodology in contemporary theoretical physics.
Este artículo reivindica la vigencia del razonamiento abductivo, o inferencia de la mejor explicación, como práctica de descubrimiento de hipótesis científicas. En el camino para lograr este objetivo se presentan en este trabajo toda una serie de argumentos que cuestionan la viabilidad del Bayesianismo como teoría de la confirmación científica. Solventado este asunto, se recurre a un episodio de la astrocosmología contemporánea que se interpreta como un ejemplo elocuente de la eficacia de la metodología abductiva en la física teórica contemporánea.
Collections