Publication:
Hardware Looper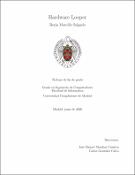 Authors
Advisors (or tutors)
Editors
Abstract
Este proyecto consiste en el diseño e implementación íntegramente en hardware de un dispositivo digital destinado a la creación de música en directo, capaz de grabar fragmentos de sonido y reproducirlos en bucle. El sistema construido dispone de múltiples pistas para grabación, que son sincronizadas entre sí de forma automática. Además presenta varias entradas y salidas de audio de alta fidelidad (24 bits de resolución a 48 KHz), las cuales pueden ser conectadas según se desee. También es capaz de aplicar simultáneamente diversos efectos al sonido, encadenándolos en el orden que especifique el usuario; entre ellos delay, overdrive, fuzz, compresor, flanger, filtros o trémolo. Incluye salida de vídeo y puede ser controlado mediante un teclado o bien remotamente desde un tablet a través de un enlace Bluetooth. Su arquitectura es altamente paralela con vistas a proporcionar el máximo rendimiento posible, así como una buena escalabilidad.
This project involves design and implementation in hardware of a digital device aimed to create live music, able to record sound fragments and playing them in loop. The built system has multiple tracks for recording, automatically synchronized between them. It also has various high-fidelity audio inputs and outputs (24 bits resolution at 48 KHz), which can be connected as desired. Moreover, it is able to apply effects to the audio, with user configurable chain order; among others, includes delay, overdrive, fuzz, compressor, flanger, filters or tremolo. A video output is present too, and can be controlled with a keyboard or a remote tablet app using a Bluetooth connection. Its architecture is highly parallel, focused on providing the highest performance as well as a good scalability.
Description
Trabajo de Fin de Grado en Grado en Ingeniería de Computadores, Facultad de Informática UCM, Departamento de Arquitectura de Computadores y Automática, Curso 2019/2020