Publication:
Desigualdad de género en la profesión periodística en España : entorno laboral y producción informativa de las periodistas de prensa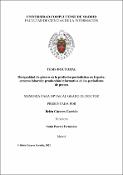 Files
Authors
Advisors (or tutors)
Editors
Publisher
Universidad Complutense de Madrid
Abstract
El gremio periodístico no escapa de la desigualdad que sufren muchas mujeres en sus entornos laborales por motivos de género, y prueba de ello es que la lucha contra esta situación en medios de comunicación internacionales y españoles ha aumentado notablemente en los últimos años. En España, durante la celebración del Día de la Mujer en marzo de 2018, ocho mil profesionales de la comunicación firmaron el manifiesto Las Periodistas Paramos para mostrar su preocupación por el rol de las periodistas en sus lugares de trabajo, denunciar un menor reconocimiento ante sus colegas varones y demandar un cambio real en las empresas de comunicación. Esta tesis doctoral tiene dos objetivos generales. El primero, conocer las percepciones que tienen las periodistas de prensa sobre la desigualdad de género en sus entornos laborales, contextualizándolas dentro del marco de planes de igualdad que la Ley Orgánica 3/2007 establece para las empresas en España. En segundo lugar, describir y analizar la producción periodística de estas profesionales para determinar si la desigualdad de género percibida por ellas podría verse reflejada de algún modo en las piezas que elaboran. La metodología utilizada ha sido, por una parte, un cuestionario individual dirigido a mujeres periodistas de las ediciones madrileñas de los diarios ABC, El Mundo y El País; por otra, un análisis de contenido de las piezas elaboradas por trabajadoras de estos diarios; también se han examinado los planes de igualdad y los libros de estilo de los tres periódicos...
The journalistic guild does not escape the inequality that many women suffer in their work environments due to gender, and proof of this is that the fight against this situation in international and Spanish media has increased significantly in recent years. In Spain, during the celebration of Women's Day in March 2018, eight thousand communication professionals signed the manifest Las Periodistas Paramos to show their concern about the role of journalists in their workplaces, denounce a lower recognition before their male colleagues and demand a real change in communication companies.This doctoral thesis has two general objectives. The first, to know the perceptions that press journalists have about gender inequality in their work environments, contextualizing them within the framework of equality plans that Organic Law 3/2007 establishes for companies in Spain. Secondly, to describe and analyze the journalistic production of these professionals to determine if the gender inequality perceived by them could be reflected in some way in the pieces they write. The methodology used has been, on the one hand, an individual questionnaire addressed to women journalists of the Madrid editions of the newspapers ABC, El Mundo and El País; on the other, an analysis of the content of the pieces written by workers of these newspapers; the equality plans and style guides of the three newspapers are also examined...
Description
Tesis inédita de la Universidad Complutense de Madrid, Facultad de Ciencias de la Información, leída el 23-03-2022
Collections