Publication:
Análisis de la eficacia y de la eficiencia del sistema concesional en los servicios públicos de transporte: metros ligeros en la Comunidad de Madrid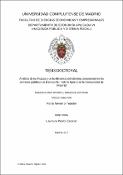 Files
Authors
Advisors (or tutors)
Editors
Publisher
Universidad Complutense de Madrid
Abstract
La presente tesis doctoral lleva por título análisis de la eficacia y de la eficiencia del sistema concesional en los servicios públicos de transporte: metros ligeros en la Comunidad de Madrid. En el marco del transporte público urbano, los criterios de eficacia y eficiencia deben conjugarse con la satisfacción del bienestar social, de manera que, ante la existencia de fallos de mercado, la intervención pública debe servir como instrumento para su corrección. En un contexto de crisis económica como el acontecido desde 2008, la racionalización del gasto público se ha convertido en un objetivo prioritario por parte de las Administraciones Públicas. Es por ello por lo que, el fin de esta tesis doctoral resulta muy oportuno en los tiempos actuales, dado que su propósito va a ser analizar la eficacia y la eficiencia de un tipo de proyectos que por sus características ha sido objeto de especial debate dado su elevado coste: el metro ligero. En concreto, esta tesis doctoral tiene como objetivo el análisis en términos de eficacia y de eficiencia de las líneas de metro ligero de la Comunidad de Madrid, construidas y puestas en funcionamiento mediante un sistema de concesión. Para ello, se han empleado tres metodologías distintas de evaluación en las que se han incluido características económicas, sociales y medioambientes, a saber: el análisis coste-beneficio (ACB), como eje principal del estudio y de forma complementaria, el análisis multicriterio (AMC) y el método de simulación Montecarlo (SM), aportando una visión alternativa y contrastado los resultados obtenidos con el análisis costebeneficio, siendo así más robustos y consistentes. La utilización conjunta de estas metodologías ha permitido una evaluación socio-económica minuciosa y profunda de las citadas líneas de metro ligero. En cada evaluación se realiza un análisis comparando, por un lado, el metro ligero con una alternativa de transporte público: el autobús y por otro lado, el metro ligero frente al uso del vehículo privado...
This PhD thesis is titled analysis of the effectiveness and efficiency of the concession system in public transport services: light rail in the Community of Madrid. Under the urban public transport, the criteria of effectiveness and efficiency must be combined with social welfare satisfaction, so that, given the existence of market failure, government intervention should serve as an instrument for correction. In a context of economic crisis since 2008, rationalization of public spending has become a priority by public authorities. The matter of this doctoral dissertation is very timely in the current times, because its purpose is to analyze the effectiveness and efficiency of a type of project very controversial for its high cost, the light rail. In particular, this PhD thesis aims to analyze in terms of effectiveness and efficiency the light rail lines in the Community of Madrid, developed by a concession system. For this purpose, it has been used three different methods of evaluation which have included economic, social and environments characteristics, namely: the cost-benefit analysis (CBA), the main methodology used, the multi-criteria analysis (AMC) and Monte Carlo simulation method (MCS), in order to contrast the results of the costbenefit analysis, to obtain more robust and consistent conclusions. The jointly use of these methodologies has allowed a thorough and deep socio-economic evaluation of said light rail lines. In each evaluation, it is carried a comparative analysis, on one hand, the light rail versus an alternative public transport mode –bus-, and on the other hand, the light rail versus the private vehicle. In addition, it has been developed two models for each alternative: one using the initial demand forecast – initial model-, and the other one, using real known demand data – model variant-. Both models allow obtaining more accurate results and solids recommendations for future studies, both transport and infrastructure sectors like any other that requires this kind of analysis...
Description
Tesis inédita de la Universidad Complutense de Madrid, Facultad de Ciencias Económicas y Empresariales, Departamento de Economía Aplicada VI (Hacienda Pública y Sistema Fiscal), leída el 30/11/2015
Collections