Publication:
The question of the consistency of hyperbolic geometry. (Spanish: La cuestión de la consistencia de la Geometría Hiperbólica)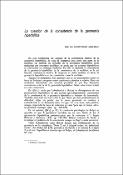 Advisors (or tutors)
Editors
Publisher
Real Academia de Ciencias Exactas, Físicas y Naturales,
Description
Papers from the conference held in Madrid, February–April 1993. Real Academia de Ciencias Exactas, Físicas y Naturales, Madrid, 1994
Citation
J.M. MONTESINOS: "Las geometrías no euclídeas: Gauss, Lobachevski y Bolyai", en "Historia de la Matemática en el siglo XIX". Real Academia de Ciencias, pp. 65-114. Madrid, 1992. J.M. MONTESINOS: "El modelo proyectivo de la geometría hiperbólica". CF. GAUSS, Obras completas. Teubner, Leipzig (1900). F. KÁRTESZI y SZÉNÁASSY: "Janos Bolyai, Appendix the theory of space" Akadémiai Jiadó, Budapest 1987. J. BOLYAI: Apéndice (ver [KS]. N. LOBACHEVSKI: Pangeometria . iKazan (1855) (traducción italiana de 1874, Napoli, librería de B. Pellerano, 2ª edición; de la 1ª edición en Giorn. mat. Napoli 5 (1867) pp. 273-320 J. BABINI: "Origen y Naturaleza de la Ciencia". Argentina H. FREUDENTHAL:"The main trends in the foundations of geometry in the 19th century"en Logic, methodology and the philosophy of science,Nagel,Suppes & Tarski,editores Stanford,Cal. 1962 N.I. LOBACHEVSKI: "Géométrie imaginaire''. J. Reine Angew. Math. 17 295-320 (1837). N.I. LOBACHEVSKI: "Geometría imaginaria y sus aplicaciones al cálculo de algunas integrales", Kazan(traducción alemana: Abh. Gesch. Math. 19 (1904). A.CAYLEY: "Note on Lobatschewsky's imaginary geometry". Phil. Mag. 29, 231-233 (1865). A.CAYLEY: "Sixth memoir upon quantics". Phil. Trans. (149), 61-69 (1859). F. KLEIN: "Über die sogennante Nicht-Euklidische Géométrie". Math. Annalen 4 (1873) 573-625. J. BATTAGLINI:"Sulla geometría immaginaria di Lobatschewsky" Giom. di Mat. Napoli 5, 217-231 (1867). E. BELTRAMI: "Saggio di interpretazione delta geometría non-euclidea" Gior. Mat. 6, 248-312 (1868). E. BELTRAMI: "Teoria fondamentale degli spazii di curvatura constante". Annali di mat. ser. II 2, 232-255 (1868). E. BELTRAMI:"Risoluzione del problema: Riportare i punti di una superficie sopra un plano in modo che le linee geodetiche vengano rappresentate da linee rette". Annali di Mat. pura e applicata serie I, 7 185-204(1865). J. MILNOR: "Hyperbolic geometry: The first 150 years". Bulletin AMS 6, 9-24 (1982). J. HOÜEL: "L'impossibilité de démontrer par une construction plane le principe de la théorie des parallèles dit postulatum d'Euclide". Sociedad de Ciencias físicas y naturales de Burdeos. Sesión del 30 de diciembre de 1869. B. RIEMANN: "Ueber die Hypothesen welche der Géométrie zu Grunde liegen" Abh. K.G. Wiss. Gottingen 13 (1868). H. POINCARÉ: "Théorie des groupes fuchsiens". Acta Math. 1, 1-62(1882). H. POINCARÉ: "Mémoire sur les groupes kleinéens". Acta Math. 3,49-92(1883).
Collections