Publication:
Stellar population gradients in bulges along the Hubble sequence - I. The data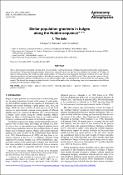 Advisors (or tutors)
Editors
Abstract
This is the first paper presenting our long-term project aimed at studying the nature of bulges through analyzing their stellar population gradients. We present deep spectroscopic observations along the minor axis and the data reduction for a sample of 32 bulges of edge-on spiral galaxies. We explain in detail our procedures for measuring their dynamical parameters (rotation curves and velocity dispersion profiles) and line-strength indices, including the conversion to the Lick/IDS system. Tables giving the values of the dynamical parameters and line-strength indices at each galactocentric radius are presented (in electronic form) for each galaxy of the sample. The derived line-strength gradients from this dataset will be analyzed in a forthcoming paper to set constraints on the different scenarios for the formation of the bulges.
Description
© ESO 2007. We are grateful to Nicolás Cardiel for his help in technical issues in the reduction process. The INT is operated on the island of La Palma by the Royal Greenwich Observatory at the Observatorio del Roque de los Muchachos of the Instituto de Astrofísica de Canarias. This work was supported by the Spanish research project AYA 2003-01840.
Citation
Andredakis, Y. C., Peletier, R. F., & Balcells, M. 1995, MNRAS, 275, 874 Arimoto, N., & Jablonka, P. 1991, A&A, 249, 374 Balcells, M., & Peletier, R. F. 1994, AJ, 107, 135 Balcells, M., Graham, A. W., Domínguez Palmero, L., & Peletier, R. F. 2003, ApJ, 582, L79 Bekki, K., & Shioya, Y. 1999, ApJ, 513, 108 Bender, R., Burstein, D., & Faber, S. M. 1992, ApJ, 399, 462 Bender, R., Burstein, D., & Faber, S. M. 1993, ApJ, 411, 153 Bottema, R., van der Kruit, P. C., & Valentijn, E. A. 1991, A&A, 247, 357 Caldwell, N., Rose, J. A., & Concannon, K. D. 2003, AJ, 125, 2891 Cardiel, N. 1999, Ph.D. Thesis, Universidad Complutense de Madrid Cardiel, N., Gorgas, J., & Aragón Salamanca, A. 1995, MNRAS, 277,502 Cardiel, N., Gorgas, J., Cenarro, A. J., & González, J. J. 1998, A&AS, 127, 597 Carlberg, R. G. 1984, ApJ, 286, 403 Carollo, C. M., Danziger, I. J., & Buson, L. M. 1993, MNRAS, 265, 553 Courteau, S., de Jong, R. S., & Broeils, A. H. 1996, ApJ, 457, L73 de Jong, R. S., Simard, L., Davies, R. L., et al. 2004, MNRAS, 355, 1155 Denicoló, G., Terlevich, R., Terlevich, E., et al. 2005, MNRAS, 356, 1440 di Nella, H., García, A. M., Garnier R., & Paturel, G. 1995, A&AS, 113, 151 Falcón Barroso, J., Peletier, R. F., & Balcells, M. 2002, MNRAS, 335, 741 Falcón Barroso, J., Peletier, R. F., Emsellem, E., et al., 2004, MNRAS, 350, 35 Fisher, D., Franx, M., & Illingworth, G. D. 1996, ApJ, 459, 110 Friedli, D. 1998, in Abundance Profiles: Diagnostic Tools for Galaxy History, ed. D. Friedli et al. (San Francisco: ASP), 287 Friedli, D., & Benz, W. 1995, A&A, 310, 649 Friedli, D., Benz, W., & Kennicutt, R. 1994, ApJ, 430, L105 Golev, V., Prugniel, Ph., Simien, F., & Longhetti, M. 1999, A&AS, 136, 519 González, J. J. 1993, Ph.D. Thesis, University of California, Santa Cruz González, J. J., & Gorgas, J. 1996, in Fresh Views on Elliptical Galaxies, ed. A. Buzzoni, A. Renzini, & A. Serrano (San Francisco: ASP), 225 Gorgas, J., Jablonka, P., & Goudfrooij, P. 2003, in Highlights of Spanish Astrophysics III, ed. J. Gallego, J. Zamorano, & N. Cardiel (The Netherlands: Kluwer Academic Pub.), 99 Goudfrooij, P., & Emsellem, E. 1996, A&A, 306, L45 Goudfrooij, P., Gorgas, J., & Jablonka, P. 1999, Ap&SS, 269, 109 Hamuy, M., Suntzeff, N. B., Heathcote, S. R., et al. 1994, PASP, 106, 566 Idiart, T.P., de Freitas Pacheco, J. A., & Costa, R. D. D. 1996, AJ, 112, 2541 Jablonka, P., Martin, P., & Arimoto, N. 1996, AJ, 112, 1415 Jablonka, P., Gorgas, J., & Goudfrooij, P. 2002, Ap&SS, 281, 367 Kauffmann, G., White, S. D. M., & Guiderdoni, B. 1993, MNRAS, 264, 201 Kormendy, J., & Kennicutt, R. C. 2004, ARA&A, 42, 603 Kuntschner, H., Emsellem, E., Bacon, R., et al. 2006, MNRAS, 369, 497 Lauberts, A. 1982, The ESO/Uppsala survey of the ESO(B) atlas Lütticke, R., Dettmar, R.-J., & Pohlen, M. 2000, A&AS, 145, 405 Martin, P., & Roy, J.-R., 1994, ApJ, 426, 601 Massey, P., Strobel, K., Barnes, J. V., & Anderson, E. 1988, ApJ, 328, 315 McArthur, L. A., Courteau, S., & Holtzman, J. A. 2003, ApJ, 582, 689 Mehlert, D., Thomas, D., Saglia, R. P., Bender, R., & Wegner, G. 2003, A&A, 407, 423 Moorthy, B. K., & Holtzman, J. A. 2006, MNRAS, 371, 583 Nilson, P. 1973, Uppsala general catalogue of galaxies, Nova Acta Regiae Societatis Scientiarum Upsaliensis, Ser. V, A, Vol. 1 Norman, C. A., Sellwood, J. A., & Hasan, H. 1996, ApJ, 462, 114 Oke, J. B. 1990, AJ, 99, 1621 Peletier, R. F., Balcells, M., Davies, R. L., et al. 1999, MNRAS, 310, 703 Pfenniger, D., & Norman, C. A. 1990, ApJ, 363, 391 Prugniel, Ph., Maubon, G., & Simien, F. 2001, A&A, 366, 68 Sánchez Blázquez, P. 2004, Ph. D. Thesis, Universidad Complutense de Madrid Sánchez Blázquez, P., Gorgas, J., & Cardiel, N. 2006a, A&A, 457, 823 Sánchez Blázquez, P., Gorgas, J., Cardiel, N., & González, J. J., 2006b, A&A, 457, 787 Sargent, W. L. W., Schechter, P. L., Boksenberg, A., & Shortridge, K. 1977, ApJ, 212, 326 Sil'chenko, O. K. 2006, ApJ, 641, 229 Trager, S. C., Worthey, G., Faber, S. M., Burstein, D., & González, J. J. 1998, ApJS, 116, 1 Trager, S. C., Faber, S. M., Worthey, G., & González, J. J. 2000, AJ, 119, 1645 Vila Costas, M. B., & Edmunds, M. G., 1992, MNRAS, 259, 121 Worthey, G., & Ottaviani, D. L. 1997, ApJS, 111, 377 Worthey, G., Faber, S. M., González, J. J., & Burstein, D. 1994, ApJS, 94, 687 Zaritsky, D., Kennicutt, R. C., & Huchra, J. P. 1994, ApJ, 420, 87
Collections