Publication:
Isoflavonas: menopausia y cáncer de mama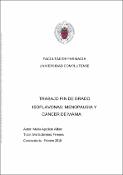 Authors
Advisors (or tutors)
Editors
Abstract
Las isoflavonas son unos pigmentos vegetales que poseen una estructura química similar al estradiol. Es esta estructura la que le confiere características estrogénicas y antiestrogénicas según los niveles de estrógeno endógeno que tengamos. En nuestro organismo existen dos receptores de estrógenos: α y β (a este último tenemos una mayor afinidad). Las isoflavonas son consumidas en su mayoría a través de los alimentos. Existen enfermedades relacionadas con el nivel de estrógenos en nuestro cuerpo, como el cáncer de mama, muy común en las mujeres. Es por esto por lo que la administración de isoflavonas desempeña un importante papel en lo que a este tumor se refiere. Se conoce como terapia hormonal de reemplazo al tratamiento con hormonas que se administra cuando los niveles de estas están disminuidos en nuestro organismo. Ahora bien, antes de nada, hay que evaluar si el cáncer es sensible o no a estrógenos. De ser así, esta terapia estaría contraindicada. Por otro lado, esta revisión bibliográfica se centra en cuáles son los síntomas no deseados de la mujer en la etapa del climaterio y en cómo prevenirlos. En este periodo sus niveles de estrógenos disminuyen por lo que se aconseja incluir en la dieta alimentos que contengan una fuente rica en isoflavonas, como por ejemplo la soja. Se ha recopilado información que afirma cómo los países asiáticos, consumidores por excelencia de alimentos ricos en isoflavonas tienen una menor incidencia de enfermedades de tipo cardiovascular. Por el contrario, los países occidentales, (cuyo consumo es de productos derivados de soja y el porcentaje de isoflavonas es mucho menor) tienen un mayor número de casos de este tipo de enfermedades. Cabe destacar también la importancia de llevar además un estilo de vida saludable (ausencia de tabaco, de alcohol y realizar ejercicio físico). Todas estas buenas prácticas contribuyen a una mejora y cuidado de la salud cardiovascular.
Isoflavons are natural compounds with a similar structure to estradiol which bestows estrogenic and antiestrogenic activity depending on the internal levels of estrogen. There are two types of estrogenic receptors; α and β, the latter has more affinity for isoflavons. The main intake of isoflavons comes from diet. Soya is a well-known product rich in these compounds. Breast cancer is a disease dependent on the levels of estrogen. The use of isoflavons plays an important role in the tumor itself. Hormone replacement therapy (HRT) is a hormone treatment applied when estrogenic levels are diminished. However, the first step in breast cancer is to evaluate if it is induced by estrogens. In this case HRT is not recommended. Additionally, we have studied which are the undesired symptoms that come along with menopause and how to prevent them. During this period the levels of estrogen are significantly lower which explains the recommendation of having a diet rich in isoflavons. Asian countries are famous for consuming many products rich in isoflavons opposed to Western countries. As a consequence, the incidence of cardiovascular diseases is lower. A healthy lifestyle, which implies neither drinking nor smoking, and that includes regular exercise and a healthy diet is also decisive in the appearance of these diseases.