Publication:
Ruta geomonumental : los materiales pétreos utilizados en la arquitectura madrileña de Fernando Arbós.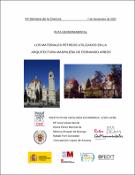 Advisors (or tutors)
Editors
Abstract
Las Rutas Geomonumentales suponen una metodología diferente para la difusión cultural y científica del patrimonio arquitectónico, atendiendo a los materiales pétreos, naturales y artificiales, que lo configuran. El prefijo "Geo" indica el fuerte condicionante geológico que tradicionalmente ha influido en los asentamientos urbanos y en su desarrollo, así como la relación existente entre la arquitectura y la geología, en tanto que gran parte de los materiales de construcción se extraen de la tierra. Debido a la mejora de la red ferroviaria española, los materiales pétreos que tradicionalmente habían configurado el patrimonio arquitectónico de la provincia de Madrid empiezan a ser sustituidos por materiales procedentes de otros puntos del país e incluso del extranjero. Fernando Arbós utilizó en sus construcciones una gran variedad de materiales pétreos tanto naturales (calizas, granitos y mármoles) como artificiales (ladrillos, cementos y metales), prestando especial cuidado a la selección de los mismos. Igualmente, destacó por emplear técnicas constructivas revolucionarias para la época, como la sustitución de la fabrica de sillería pétrea por una fábrica de ladrillo recubierta con placas de piedra natural, o el uso de cementos naturales y artificiales para la elaboración de hormigones y morteros. [ABSTRACT] The Geomonumental Routes account a different methodology for the cultural and scientific dissemination of built heritage, from the viewpoint of the stone materials, natural and artificial, that shape it. The prefix "Geo" tackles the landscape strongly influences in settlements and their development, and it establishes the relationship between historical sites and geology as well, in the sense that the main resources for building are extracted from the earth. Due to the improvement of the Spanish rail network, stone materials which traditionally have shaped the built heritage of the region of Madrid, began to be replaced by materials from other parts of the country and even abroad. Fernando Arbós used a variety of both stone materials, natural (limestone, granite and marble) and artificial (bricks, cement and metals), regarding special attention to the selection process. He also highlighted by using construction techniques revolutionary for its time, such as replacing the stone masonry by brick factories covered with natural stone slabs, or the use of natural and artificial cements for the production of concrete and mortar.