Publication:
El libro litúrgico y la imprenta musical en España hasta 1520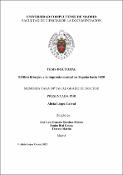 Files
Authors
Advisors (or tutors)
Editors
Abstract
El objetivo principal de esta tesis doctoral, es profundizar en el conocimiento de los talleres de imprenta que estuvieron funcionando en España hasta 1520, y analizando en especial, su actividad de impresión de libros litúrgicos musicales para diócesis españolas, a través del análisis de los materiales (fundiciones y xilografías) que se emplearon en la composición de dichos impresos litúrgicos musicales. La tesis doctoral se ha dividido en cinco grandes bloques: un estudio introductorio, una aproximación a los libros litúrgicos musicales, un acercamiento a la historia de la imprenta musical europea y española, un estudio de producción litúrgica musical por impresores y un repertorio tipobibliográfico.En el primer bloque, y a través del estudio introductorio, se realiza una aproximación inicial a la imprenta musical litúrgica en España, donde se desarrollan los objetivos y la metodología seguida en esta investigación y donde se abordan los antecedentes y trabajos previos existentes sobre este tipo de imprenta. A continuación, en el segundo bloque, se delimita la definición del libro litúrgico y la tipología de libros litúrgicos musicales, puesto que, en la mayoría de las ocasiones, los autores no coinciden a la hora de establecer una definición que pueda reflejar los libros litúrgicos creados para las diversas iglesias católicas. A lo largo del tercer bloque se realiza una aproximación inicial a la imprenta musical europea, centrada en Italia, Francia, Países Bajos, Alemania e Inglaterra, y España, en el que se traza el recorrido de la invención de la imprenta musical y las producciones más representativas en cada uno de los países...
The main objective of this doctoral thesis is to deepen our knowledge of the printing workshops that were operating in Spain until 1520, analyzing in particular their activity of printing musical liturgical books for Spanish dioceses, through the analysis of the materials (foundries and woodcuts) that were used in the composition of these musical liturgical printed works. The doctoral thesis has been divided into five main sections: an introductory study, an approach to musical liturgical books, the history of European and Spanish musical printing, a study of musical liturgical production by printers and a typobibliographic repertoire.Through the introductory study, an initial approach to liturgical music printing in Spain is made, where the objectives and methodology followed in this research are developed and where the antecedents and previous publications on this type of printing are discussed. Then, in the second block, the liturgical book and the typology of musical liturgical books are defined, as authors are rarely in agreement on a definition that can reflect the liturgical books created for different catholic churches. Throughout the third block, an initial approach to European music printing is made, focusing on Italy, France, the Netherlands, Germany and England, and Spain, in which the route of the invention of music printing and the most representative productions in each of the countries are traced...
Description
Tesis inédita de la Universidad Complutense de Madrid, Facultad de Ciencias de la Documentación, leída el 12-12-2022
Collections