Publication:
MMOTFG: Massively Multiplayer Online Telegram Fantasy Game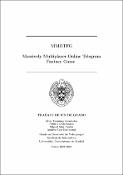 Advisors (or tutors)
Editors
Abstract
En los últimos años, las aplicaciones de mensajería instantánea se han consolidado como una de las opciones más extendidas de comunicación. Algunas de ellas dan a sus usuarios la posibilidad de programar bots, aplicaciones que se integran dentro de las conversaciones y que pueden conectarse a servicios externos para así automatizar acciones a través de dichas conversaciones. Una de las aplicaciones de mensajería más utilizadas, Telegram, ofrece una interfaz de programación de aplicaciones pública y gratuita para programar bots que se pueden poner a disposición de todos sus usuarios. Se han publicado ya innumerables bots programados con esta API, cuyas funcionalidades son de lo más diversas, desde la automatización de recordatorios hasta la integración con servicios como Gmail o Twitter dentro del mismo chat. El objetivo principal de este proyecto es desarrollar un framework que permita la creación de juegos de rol multijugador que puedan ser usados a través de Telegram, de modo que los jugadores puedan interactuar con el juego mediante conversaciones con un bot a través de esta plataforma. Durante el desarrollo del proyecto se ha conseguido implementar dicho framework, el cual permite crear juegos de rol jugables a través de Telegram mediante archivos de datos. Se ha evaluado la funcionalidad con distintos casos de uso, y los resultados sugieren que el framework facilita en gran medida, tanto en tiempo como en dificultad, el proceso de creación de estos juegos.
In recent years, instant messaging applications have become one of the most widespread options for communicating. Some of them provide their users with the option of programming bots, which are applications that are integrated into conversations and can be connected to external services in order to automate certain actions through said conversations. One of the most used messaging apps, Telegram, offers a public and free API for programming bots that can be made available to all its users. Countless bots programmed with this API have already been published, with a wide range of different functionalities, from automating personal reminders to the integration of services such as Gmail or Twitter within the chat itself. The main objective of this project is the development of a framework that allows the creation of multiplayer role-playing games which can be played through Telegram, so that the players can interact with the game through a conversation with a bot. During the project's development cycle the goal of developing this framework has been achieved, allowing to create multiplayer role-playing games playable via Telegram through the modification of data files. Its functionality has been evaluated in different test use cases, and the results suggest that the framework makes it considerably easier to make this type of game, both in regards to time and difficulty.
Description
Trabajo de Fin de Grado en videojuegos, Facultad de Informática UCM, Departamento de Ingeniería del Software e Inteligencia Artificial, Curso 2021/2022.