Publication:
La cuenca triásica de la Rama Castellana de la Cordillera Ibérica. I. Petrografía y mineralogía.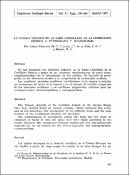 Advisors (or tutors)
Editors
Publisher
Servicio de Publicaciones de la Universidad Complutense de Madrid
Abstract
Se han estudiado los depósitos triásicos de la Rama Castellana de la Cordillera Ibérica a partir de las columnas representativas de cinco áreas, complementadas con la información de dos sondeos. Se describe la petrografía de los diferentes niveles y la composición de la fracción arcillosa. Los resultados permiten establecer correlaciones en la cuenca y estudiar las variaciones da facies en el espacio y en el tiempo. El estudio comparado de los minerales arcillosos y no arcillosos proporciona criterios para las reconstrucciones litoestratigráficas y paleogeográficas.
The Triassic depositc of the Castillian branch of the Iberian Range haya baen studied basad on vas-ious columns, which represent fiva áreas, and on two boreholes. Ihe petrography of the diffes-ent levels and the composition of the argillaceous fraction are déscribed. The astablishment of correlations within the basin and the study of variations of facies in time and space haya baen made according to the results obtained. The comparison between argillaceous aud non-argillaceous mines-als has set up criteria fos- the lithosts-atigs-aphic and paleogeographic reconstructions.
Collections