Publication:
Defectos de esmalte en niños prematuros extremos nacidos en el hospital universitario La Paz de Madrid. Un estudio caso control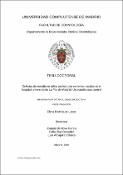 Files
Authors
Advisors (or tutors)
Editors
Publisher
Universidad Complutense de Madrid
Abstract
Introducción: Se estima que 15 millones de bebés nacen prematuros cada año en todo el mundo (esto equivale a un 10% de los nacimientos totales) y, de estos, más del 80 % se clasifican como nacimientos prematuros (edad gestacional inferior a 37 semanas); el resto como nacimientos muy prematuros (edad gestacional inferior a 32 semanas) o extremadamente prematuros (edad gestacional inferior a 28 semanas). La privación del medio intrauterino los predispone a muchos problemas médicos graves durante el período neonatal que pueden afectar el desarrollo de los tejidos orales.Objetivo: Conocer la prevalencia de los defectos del desarrollo del esmalte en dentición temporal en una muestra de niños prematuros extremos nacidos y seguidos en la consulta de Neonatología del Hospital Universitario La Paz y analizar variables relacionadas con la condición de nacimiento, complicaciones y terapéuticas que puedan estar implicadas en su etiología...
Introduction: It is estimated that 15 million babies are born premature every year worldwide (this is equivalent to 10% of total births) and, of these, more than 80% are classified as premature births (gestational age less than 37 weeks ); the rest as very premature births (gestational age less than 32 weeks) or extremely premature (gestational age less than 28 weeks). The deprivation of the intrauterine environment predisposes them to serious medical problems during the neonatal period which may affect the development of oral tissues.Objective: To determine the prevalence of enamel development defects in the primary dentition in a sample of extreme premature infants born and followed in the Neonatology Service of the La Paz University Hospital and to analyze variables related to the condition of birth, complications and therapeutics that can be involved in its etiology...
Description
Tesis inédita de la Universidad Complutense de Madrid de la Facultad de Odontología del Departamento de Especialidades Clínicas Odontológicas, leída el 3 de Julio de 2018.
Collections