Publication:
Sustitución de cultivos ilícitos y cultura de la legalidad en Colombia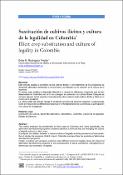 Advisors (or tutors)
Editors
Publisher
Universidad Carlos III de Madrid
Abstract
Este artículo analiza el problema de los cultivos ilícitos y concretamente de los programas de desarrollo alternativo destinados a solucionarla y su relación con la creación de la cultura de la legalidad. En primer lugar analiza el desarrollo alternativo y recorre los diferentes programas que se han desarrollado en Colombia con el fin de conseguir la sustitución de cultivos ilícitos. Después se recogen algunos de los aspectos más relevantes de la relación entre cultivos ilícitos y fallas en la cultura de la legalidad. La última parte del artículo recoge la evidencia empírica de diversos estudios y evaluaciones sobre el impacto de los diferentes programas en el fortalecimiento de la confianza, la participación y la cultura de la legalidad.
This article analyzes the problematic of illicit crops in Colombia and, more specifically, the alternative development programs created to address it and how they are changing the culture of ilegality intrinsic to ilicit crops. It analyzes the relation between a certain culture of illegality and the prevalence of narcotrafic; then it studies the presence of illicit crops in Colombia and describes the evolution of alternative development programs. Finally, it collects and analyzes evidence from different empirical studies about the impact of alternative development programs in the enhancement of social confidence, strengthening of democracy and promotion of legality.
Collections