Publication:
Conceptualización de la operación aditiva y estrategias de resolución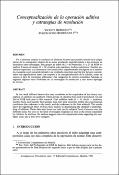 Advisors (or tutors)
Editors
Abstract
En el presente estudio se analizan los distintos factores que pueden incidir en la adqui­sición de la concepción binaria de la suma, prestando especial interés a los procesos de transición entre estrategias. Tres grupos de niños de 2.0 de Preescolar, 1.0 y 2.0 de EGB re­suelven 4 tareas de sumar (1 + N, círculos más guarismo, hechos numéricos y hechos nu­méricos superiores a la decena) en dos condiciones experimentales (incógnita en el resulta­do, incógnita en el sumando inicial). Los resultados muestran que los tres factores conside­rados son significativos tanto con respecto a la conceptualización de la adición, como en cuanto al tipo de estrategias utilizadas y las categorías de errores cometidos. Además, se sugieren algunas rutas evolutivas en las estrategias de resolución y una nueva tipología de errores.
In this work different factors that may contribute to the acquisition of the binary con­ception of addition are analysed. Three groups of children from 2nd of preschool, lst and 2nd of EGB took part in this research. Four addition tasks (1 + N, circles + numbers, number facts, and number facts greater than ten) were presented within two experimental conditions (the unknown in the result, and the unknown in the first addend). The results show the significan( effect of these three factors in determining the children's understan­ding of addition. These data were based not only on the subjects' level of success over the different tasks, but also on the kind of strategies employed as well as the errors committed by children. In addition, the authors suggest sorne developmental routes regarding the stra­tegies used, and a new error category.
Collections