Publication:
Evaluación de herramientas de simulación y estudio de las preferencias del color en daltónicos dicrómatas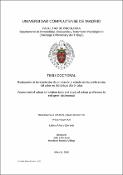 Files
Authors
Advisors (or tutors)
Editors
Publisher
Universidad Complutense de Madrid
Abstract
Los observadores con visión normal del color (tricrómatas normales) poseen tres tipos de conos retinianos, que responden máximamente a las longitudes de onda larga (conos L), media (M) y corta (S). Los dicromatismos rojo-verde son alteraciones genéticas de la visión del color en las que, aparte del fotopigmento presente en los conos S, únicamente existe otro tipo de fotopigmento, el que contienen los conos L (deuteranopia) o M (protanopia). Afectan a un 2% de los varones y conllevan una discriminación del color reducida y una sensibilidad espectral diferente de la del tricromatismo normal. Los dos estudios empíricos que componen esta tesis se ocupan de la adecuación de las herramientas que simulan los dicromatismos rojoverde y de las preferencias del color de quienes los padecen. El primer estudio propone un método, Simulcheck, diseñado para evaluar la precisión de las herramientas de simulación del color y su objetivo principal es comprobar la adecuación de Simulcheck como método de evaluación. Para conseguir este objetivo, se comparó el comportamiento de dicrómatas reales con el de dicrómatas simulados mediante tres herramientas diferentes. El grado de similitud entre el comportamiento de ambos tipos de observadores se utilizó como criterio para evaluar la precisión de las herramientas. Un grupo de 10 daltónicos dicrómatas (5 protanopes; 5 deuteranopes) y un grupo de 10 tricrómatas normales realizaron dos tareas: (1) identificación de estímulos pseudoacromáticos para determinar los dos ángulos cromáticos (valores huv) que generaban una respuesta mínima en el mecanismo amarillo-azul y, consecuentemente, la percepción de estímulos pseudoacromáticos; (2) mínimo contraste acromático para determinar el fondo acromático que producía un contraste mínimo (cambio más próximo a cero en el mecanismo acromático) para cada estímulo pseudoacromático seleccionado en la tarea anterior (valores LR). Se utilizaron dos conjuntos estimulares, ambos con 40 estímulos, que cubrían todo el círculo cromático mediante intervalos de 9° en huv: en el de croma máximo, los estímulos presentaban la máxima saturación posible del monitor en cada ángulo; en el de croma constante, los estímulos presentaban valores similares en croma y claridad (C*uv y L*), definidos por el ángulo de tono menos saturado disponible en la gama del monitor...
Common observers (normal trichromats) have three types of cones in the retina. These cones respond maximally to long (L cones), medium (M) and short (S) wavelengths. Red-green dichromatisms are genetic alterations of colour vision which results in only two photopigments: one photopigment in the S cones and another photopigment either in the L cones (deuteranopia) or in the M cones (protanopia). They affect 2% of males and result in reduced colour discrimination and different spectral sensitivity in comparison to normal trichromatism. The two empirical studies of this thesis dissertation deal with the suitability of colour simulation tools that mimic the red-green dichromatisms and the colour preferences of red-green dichromats. The first study devises a method, Simulcheck, designed to assess the accuracy of colour simulation tools. The main goal of this study is to check the suitability of Simulcheck as an assessment method for these tools. In order to do this, the behaviour of real dichromats and the behaviour of simulated dichromats are compared through three different tools. The similarity degree between both kinds of observers is used as the criterion to assess the accuracy of the assessed tools. A group of 10 red-green dichromats (5 protanopes; 5 deuteranopes) and a group of 10 normal trichromats performed two tasks: (1) the Pseudoachromatic Stimuli Identification task to determine the two chromatic angles (huv values) that generate a minimum response in the yellow-blue mechanism and, consequently, the perception of pseudoachromatic stimuli; (2) the Minimum Achromatic Contrast task to determine the achromatic background that produced a minimum contrast (change near zero in the achromatic mechanism) for each pseudoachromatic stimulus selected in the previous task (LR values). Two 40 stimulus sets were used, covering the full chromatic circle by intervals of 9° in huv: in the maximum chroma set, the stimuli were presented at the maximum possible saturation for the screen in each angle; in the constant chroma set, the stimuli were presented with similar values of chroma and lightness (C*uv and L*), as defined by the less saturated angle available in the screen gamut...
Description
Tesis inédita de la Universidad Complutense de Madrid, Facultad de Psicología, Departamento de Personalidad, Evaluación y Tratamiento Psicológico II (Psicología Diferencial y del Trabajo), leída el 15-12-2015.
Collections