Publication:
Alfonso de Palencia. Ad Alfonsum de Velasco in funebrem Abulensis praesulis fabulosa narratio (ca. 1455): edición crítica del MS UCM BH 133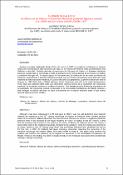 Authors
Advisors (or tutors)
Editors
Publisher
Biblioteca Histórica de la Universidad Complutense de Madrid
Abstract
Aunque ya estaba catalogado desde 1745 y de nuevo en 1800, los modernos estudiosos no tuvieron noticia de la existencia de este manuscrito del siglo XV de Alfonso de Palencia hasta que Bartolomé José Gallardo lo describió. Gallardo describe el manuscrito Ad Alfonsum de Velasco in funebrem Abulensis praesulis cuando éste se encontraba a modo de préstamo en la Real Academia de la Historia, en Madrid, a mediados del siglo XIX. En aquella época la RAH procuraba la publicación de las obras de Alfonso de Palencia y seguramente a aquellos esfuerzos se debe que se conserve actualmente en la RAH una copia moderna de este manuscrito medieval, el cual fue devuelto a su propietaria. La primera edición del texto la hicieron en 1982 Brian Tate y Rafael Alemany Ferrer basándose para ello en la copia decimonónica. Pues, dado que Gallardo había dado una información confusa acerca de la localización del manuscrito medieval, los modernos editores no pudieron localizarlo. Este trabajo resuelve finalmente el problema de la localización del manuscrito original, conservado en la Universidad Complutense de Madrid. Gracias a este hallazgo mi edición del texto se basa directamente en el original medieval sobre el que intento dilucidar algunas lecturas difíciles.[ABSTRAC]Although it had been catalogued in 1745 and again in 1800, it was not until Bartolomé José Gallardo reported the existence of this 15th century manuscript of Alfonso de Palencia when scholars became aware of its existence. Gallardo described the manuscript Ad Alfonsum de Velasco in funebrem Abulensis raesulis when it was borrowed by the Royal Academy of History, in Madrid, in mid 19th century. At that time the Academy was involved in the edition of the works of Alfonso de Palencia and for this reason a hand written copy of the medieval manuscript remained in the Academy, while the original was returned to its owner. Based on this 19th century copy, Brian Tate and Rafael Alemany Ferrer published this text for the first time in 1982. As Gallardo had given confusing information regarding the ownership of the medieval manuscript, the modern editors have been unable to locate it. This paper finally resolves this problem and confirms the existence of the original text preserved in the Universidad Complutense de Madrid. Thanks to this finding, my edition is based directly on the medieval manuscript whose problematic readings I attempt to elucidate.
Citation
DURÁN BARCELÓ, Javier. 1992. "Obra, poética, retórica, lexicografía y filosofía moral de Alfonso de Palencia. Ediciones críticas del De Perfectione militaris triumphi y La perfeçión del triunfo" Ph.D. Dissertation, dir. Luisa López Grigera, University of Michigan, 1992 [ejemplar BNE 7/163933]. . ___. 1995. "Bibliografía de Alfonso de Palencia", en Vicenç BELTRAN (coord. y ed.) Boletín Bibliográfico de la Asociación Hispánica de Literatura Medieval, fascículo 9 (1995), cuaderno bibliográfico 12, pp. 289-335. ___. 1998. "La escritura humanística en los códices del Alfonso de Palencia", en M. PÉREZ GONZÁLEZ (coord. vol. I) & J. MATAS CABALLERO et alii (coords. vol. 2), Actas del Congreso Internacional sobre Humanismo y Renacimiento [celebrado en León del 4 al 8 de junio de 1996]. León: Universidad de León: Secretariado de Publicaciones, 1998, vol. 2, pp. 311-318. ___. 2002 (a). "Marginalia en los autógrafos de Alfonso de Palencia", en Pedro M. CÁTEDRA & M. L. LÓPEZ VIDRIERO (dirs.) & Pablo ANDRÉS ESCAPA (ed.), El Libro Antiguo Español VI: De libros, librerías, imprentas y lectores, Salamanca: Seminario de Estudios Medievales y Renacentistas, 2002, pp. 97-117. ___. (ed.). 2002 (b). Juan de Icíar vizcaíno, Arte sutilísima por la cual se enseña a escribir perfectamente, hecho y experimentado y ahora de nuevo añadido por ___, Año 1553, [introducción por Javier Durán Barceló]. Valladolid: Junta de Castilla y León, Consejería de Educación y Cultura; Ayuntamiento de Valladolid, edición no venal, 2002. ___. 2012a "UCM BH MSS 133: catalogación de los once manuscritos encuadernados en este volumen facticio", en Pecia complutense. ___. 2012b "Historia de los MSS BH 133 y 128 de Alfonso de Palencia en la Universidad Complutense de Madrid", en Pecia complutense. ESCOBAR, Ángel. 2009. "Reflexiones metodológicas sobre el estudio de autógrafos en manuscritos españoles", en Pedro M. CÁTEDRA (dir.) & E. B. CARRO CARBAJAL & J. DURÁN BARCELÓ (eds.), Los códices literarios de la Edad Media. Interpretación, historia, técnicas y catalogación, [Salamanca]: Instituto de Historia del Libro y de la Lectura; [Gráficas Cervantes], 2009, pp. 429-446, esp. pp. 441. GALLARDO, Bartolomé José. 1866. Ensayo de una Biblioteca de libros raros y curiosos, formado con los apuntamientos de ___; coordinados y aumentados por M. R. Zarco del Valle & J.Sancho Rayón. Madrid: Imprenta y estereotipia de M. Rivadeneyra; Imprenta y fundición de Manuel Tello, 1866, Vol. II, núm. 2178. GIMENO BLAY, Francisco M. 1993. "Una aventura caligráfica: Gabriel Altadell y su De arte scribendi (ca. 1468)", en Scrittura e civiltà, XVII, Firenze: Leo S. Olschki, 1993, pp. 203-270. KRISTELLER, Paul Oscar. 1989. Iter Italicum: accedunt alia itinera. A finding list of uncatalogued or incompletely catalogued humanistic manuscripts of the Renaissance in Italy and other Libraries. London: Warburg Institute; Leiden, The Netherlands: E. J, Brill, vol. IV, p. 588b. MENÉNDEZ PELAYO, Marcelino. [ca. 1875]. Biblioteca de Traductores Españoles, edición preparada por Enrique Sánchez Reyes. Santander: Consejo Superior de Investigaciones Científicas, 1952-1953, vol. IV, p. 19. MONFASANI, John. 1989. "Bernardo Giustiniani and Alfonso de Palencia: Their Hands and Some New Humanist Texts and Translations", Scriptorium, 43, 1989, pp. 223-237 (esp. pp. 231-233). Reimp. Language and Learnig in Renaissance Italy: selected articles, Great Yarmouth, Norfolk, GB: Galliard Ltd., 1994. Variorum Collected Studies Serie, C.S.; 460. SIMÓN DÍAZ, José. 1965. Bibliografía de la Literatura Hispánica. Tomo III, volumen segundo, Madrid: Consejo Superior de Investigaciones Científicas; Instituto "Miguel de Cervantes" de Filología Hispánica, p. 338, núm. 6021. TATE, R. Brian & ALEMANY FERRER, Rafael. 1982. Alfonso de Palencia, Epístolas Latinas, edición, prólogo y traducción de ___.Barcelona: Universidad Autónoma, pp. 78-100 y 122, núm. XI. TATE, R. Brian & LAWRANCE, Jeremy. 1998-1999. "Autógrafos de Palencia", en Alfonso de PALENCIA, Gesta Hispaniensia ex Annalibus suorum dierum collecta, edición, estudio y notas de ___. Madrid: Real Academia de la Historia, tomo 1: libri I-V, tomo 2: libri VI-X, vid. t. I, p. xlvii, y t. II, pp. 497 y 506. VILLA-AMIL Y CASTRO, José. 1878. Catálogo de los Manuscritos existentes en la Biblioteca del Noviciado de la Universidad Central, procedentes de la antigua de Alcalá. Parte I. Códices, Madrid: Imp. de Aribau.
Collections