Publication:
Análisis de secuencias de islas barrera pleistocenas en relación con variaciones del nivel del mar, laguna de La Mata (Alicante)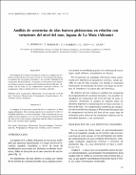 Advisors (or tutors)
Editors
Publisher
Instituto Nacional de Geología (España). Instituto Jaime Almera
Abstract
En la laguna de La Mata (Alicante) se estudia un complejo de cordones litorales pleistocenos que forman el cierre de la actual laguna. Se analizan las secuencias resultantes y los posibles indicadores de variaciones del nivel del mar. Asimismo se interpretan estos depósitos en base a una curva aparente de tendencias del nivel del mar, obtenida con la suma de las componentes eustáticas cíclicas y la componente relativa debida al factor tectónico aplicado. [ABSTRACT] A complex of Pleistocene coastal barriers is studied in La Mata lagoon (Alicante). The resuting sequences are analyzed in order to establish indicators 0f sea level changes. These deposits can be correlated with an apparent curve of sea level tendencies obtained with the sum of the cyclic eustatic component and the relative component due to the tectonic factor applied.
Collections