Publication:
Evaluación de fortalezas humanas en estudiantes de la Universidad Complutense de Madrid y diferencias de sexo: relación con salud, resiliencia y rendimiento académico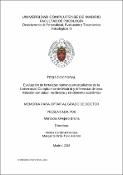 Files
Authors
Advisors (or tutors)
Editors
Publisher
Universidad Complutense de Madrid
Abstract
La Psicología Positiva supone el estudio científico del funcionamiento psíquico óptimo y de las condiciones que contribuyen al desarrollo de las personas, grupos e individuos (Seligman y Csikszentmihalyi, 2000). Estos autores establecieron que los tres temas principales de la Psicología Positiva son el estudio del afecto positivo, de los rasgos positivos de personalidad (es decir, las fortalezas psicológicas) y de las instituciones positivas. El estudio de las fortalezas ha sido, desde el inicio de la Psicología Positiva, una de los temas centrales de análisis e investigación (Peterson y Park, 2013).Existen varios modelos de fortalezas humanas en la actualidad. En esta investigación se utiliza el modelo Values in Action (VIA) (Peterson y Seligman, 2004). Se trata de una perspectiva importante de los rasgos positivos y las fortalezas humanas. Desde este modelo se afirma que existen 6 virtudes (características centrales del carácter valoradas moralmente) y 24 fortalezas (procesos psicológicos y mecanismos mediante los cuales se manifiesta una virtud) que son universales, además de haber temas situacionales subyacentes a estas fortalezas.El cuestionario VIA-IS es la forma de evaluar las fortalezas humanas desde el modelo VIA (LaFollete, 2010; Peterson y Seligman, 2004). Este instrumento ha sido traducido al español pero no se han realizado suficientes estudios que confirmen su fiabilidad y validación en España. La revisión sistemática de 22 estudios de 13 países con respecto al funcionamiento del VIA-IS en su apartado psicométrico permite concluir que la fiabilidad obtenida por consistencia interna y estabilidad temporal (test-retest) es adecuada. También se observa que el VIA-IS tiene buenos indicadores de validez de criterio, no obstante, su validez de constructo es cuestionable ya que se encuentran anomalías en la estructura factorial de primer y segundo orden, es decir, la composición de las virtudes y la unidimensionalidad de las fortalezas varía en función del país o la cultura a la que se administra el cuestionario...
Character strengths-based inquiry has been, since the beginning of Positive Psychology, one of the central themes of analysis and research (Peterson & Park, 2013). The Values in Action Classification is an important perspective of positive traits and character strengths (Peterson & Seligman, 2004). The VIA Classification consists of 24 widely-valued character strengths organized under six broad virtues. In addition to this two levels, there are situational themes that underlie those character strengths. The VIA-IS is a measure based within the VIA project (LaFollete, 2010; Peterson & Seligman, 2004).Moreover, several studies indicate that there are differences between men and women in psychological strengths (Linley et al., 2007; Ovejero & Cardenal, 2011). The results show that women tended to score higher in interpersonal strengths, while men have higher scores on the intellectual strengths. However, there is no clear data about the influence of sex on the correlations among character strengths and wellbeing, satisfaction with life, academic performance, engagement, resilience and mental and physical health, and the role of that variable on the prediction of these wellbeing indicators using character strengths as independent variables...
Description
Tesis de la Universidad Complutense de Madrid, Facultad de Psicología, Departamento de Personalidad, Evaluación y Tratamientos Psicológicos II, leída el 07-11-2014
Collections