Publication:
Predictores electrocardiográficos de éxito agudo en la ablación de las arritmias ventriculares del tracto de salida de ventrículo derecho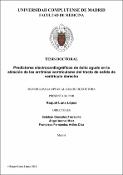 Files
Authors
Advisors (or tutors)
Editors
Publisher
Universidad Complutense de Madrid
Abstract
Las arritmias ventriculares idiopáticas del tracto de salida son frecuentes y suelen presentar un curso benigno. Sin embargo, la escasa utilidad de los fármacos antiarrítmicos para controlarlas, así como el riesgo de desarrollo de miocardiopatía secundaria han hecho que la ablación con radiofrecuencia se haya convertido en el tratamiento de elección. La mayoría de las arritmias ventriculares idiopáticas se originan en el tracto de salida de ventrículo derecho, siendo la ablación derecha un procedimiento seguro, con unas tasas de éxito agudo que varían del 83 al 100%. Con menos frecuencia, pueden originarse en el tracto de salida del ventrículo izquierdo y posiciones adyacentes, siendo por lo general procedimientos de ablación más complejos, con menor tasa de éxito y mayores riesgos. La proximidad anatómica de todas estas regiones complica el diagnóstico electrocardiográfico. Predecir el origen de la arritmia de forma precisa resulta esencial para planificar el procedimiento y decidir el acceso anatómico (venoso en caso de origen en TSVD, arterial si el origen se sospecha en TSVI), así como para estimar sus riesgos y una adecuada información al paciente. OBJETIVOS: El objetivo principal del estudio es establecer un modelo predictivo de parámetros electrocardiográficos independientes para la obtención de éxito agudo de la ablación con radiofrecuencia realizada desde posiciones del tracto de salida del ventrículo derecho en pacientes con arritmias ventriculares focales con un patrón de QRS predominantemente negativo en las dos primeras precordiales. Como objetivos secundarios planteamos una validación externa de los algoritmos electrocardiográficos predictores previamente descritos para el global de nuestra muestra de estudio, así como analizando específicamente el comportamiento de estos en las arritmias con transición en V3 (transición electrocardiográfica de mayor solapamiento entre el origen derecho e izquierdo). Por otro lado, se realiza un estudio descriptivo de los pacientes con miocardiopatía por extrasistolia ventricular con el fin de plantear posibles predictores clínicos o electrocardiográficos para su identificación...
Idiopathic outflow tract ventricular arrhythmias are common and usually have a benign course. However, the limited usefulness of antiarrhythmic drugs to control them, as well as the risk of developing secondary cardiomyopathy, have made radiofrequency ablation the treatment of choice. Most idiopathic ventricular arrhythmias originate in the right ventricular outflow tract, with right ablation being a safe procedure, with acute success rates ranging from 83% to 100%. Less frequently, they can originate in the left ventricular outflow tract and adjacent positions, generally being more complex ablation procedures, with lower success rates and higher risks. The anatomical proximity of all these regions makes the electrocardiographic diagnosis more challenging. Precisely predicting the origin of the arrhythmia is essential to plan the procedure and decide the anatomical access (venous in case of origin in RVOT, arterial if the origin is suspected in LVOT), as well as to estimate its risks and adequate information to the patient. OBJECTIVES: The main objective of the study is to establish a predictive model of independent electrocardiographic parameters to obtain acute success of radiofrequency ablation performed from positions of the right ventricular outflow tract in patients with focal ventricular arrhythmias with a predominantly negative QRS pattern in the first two precordial. As secondary objectives, we propose an external validation of the previously described predictive electrocardiographic algorithms for our overall study sample, as well as specifically analysing their behaviour in arrhythmias with transition in V3 (electrocardiographic transition with greater overlap between the right and left origin). On the other hand, a descriptive study of patients with cardiomyopathy due to ventricular extrasystoles was carried out in order to propose possible clinical or electrocardiographic predictors for their identification...
Description
Tesis inédita de la Universidad Complutense de Madrid, Facultad de Medicina, Departamento de Medicina, leída el 04/02/2021
Collections