Publication:
The Future of Uniform Private Law in the European Union: New Trends and Challenges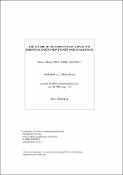 Authors
Advisors (or tutors)
Editors
Abstract
This article discusses the limits of Community legislation as a source of uniform law and stresses the difficulties raised by the projects to codify private law in the European Union. Such an approach may be appropriate in the present state of Community integration if limited to rules of mandatory contract law and provisions of Private International Law. Further unification of private law in Europe requires also significant changes in the institutional framework to create uniform rules and the development of new regulatory techniques. --- Este artículo analiza las carencias de la legislación comunitaria como fuente para la unificación del Derecho privado, destacando las deficiencias de los proyectos de una codificación de amplio alcance del Derecho privado en el seno de la UE. Una pretensión de ese tipo parece apropiada en el estado actual de la integración comunitaria si su alcance se limita a normas de Derecho contractual imperativo así como de Derecho internacional privado. Una mayor unificación del Derecho privado en Europa exige además importantes adaptaciones del marco institucional para la creación de tales normas comunes.
Collections