Publication:
Identificación y caracterización de las proteínas NcROP40 y NcNTPasa, y evaluación de su utilidad vacunal frente a la neosporosis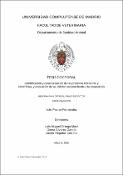 Authors
Advisors (or tutors)
Editors
Publisher
Universidad Complutense de Madrid
Abstract
Neospora caninum es un parásito formador de quistes reconocido a nivel mundial como la principal causa de aborto en ganado vacuno, donde produce importantes pérdidas económicas. A pesar de que la vacunación se ha descrito como la estrategia de control más eficiente frente a la neosporosis bovina, hasta la fecha no existen formulaciones eficaces que prevengan la transmisión vertical y el aborto. En la actualidad, las medidas de control de la enfermedad dependen de un diagnóstico adecuado asociado a unas medidas de manejo concretas, por lo que el desarrollo de una vacuna frente a la neosporosis bovina es una tarea urgente. En este sentido, las vacunas de subunidades se presentan como una buena alternativa al uso de vacunas vivas, debido a su mayor seguridad y menor coste de producción; además, dichas vacunas pueden ser específicamente diseñadas frente a proteínas determinadas con el fin de bloquear procesos esenciales para la supervivencia del parásito. Desgraciadamente, el conocimiento de los mecanismos de invasión y proliferación de N. caninum es muy limitado a nivel molecular. Además, son pocos los estudios en los que se haya abarcado la identificación de factores de virulencia potenciales del parásito. Todo ello dificulta la selección de dianas apropiadas a la hora de diseñar nuevas formulaciones vacunales frente a la neosporosis...
Neospora caninum is a cyst-forming parasite that has been recognized worldwide as the main cause of abortion in cattle producing significant economic losses. Despite vaccination having been described as the most cost-efficient strategy to control neosporosis in cattle, there are no available formulations to prevent vertical transmission and abortion. Nowadays, control options rely on diagnosis coupled with management measures, and hence, the development of an effective vaccine against bovine neosporosis has become urgent. Subunit vaccines appear as a good alternative to the use of live vaccines due to their safety and reduced costs. In addition, they can be specifically designed to act against particular proteins to block essential processes for parasite survival. Unfortunately, the basic mechanisms on how host cell invasion and proliferation is achieved by N. caninum tachyzoites have been poorly investigated at the molecular level. Moreover, the identification of potential virulence factors of N. caninum has not been extensively exploited, making the choice of proper targets to design new vaccine formulations against neosporosis difficult...
Description
Tesis inédita de la Universidad Complutense de Madrid, Facultad de Veterinaria, Departamento de Sanidad Animal, leída el 28/01/2016. Tesis formato europeo (compendio de artículos)
Collections