Publication:
Mujeres y Geología en España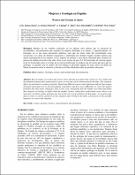 Advisors (or tutors)
Editors
Publisher
Sociedad Geológica de España.
Abstract
Muchos de los estudios realizados en los últimos años indican que la sensación de invisibilidad y discriminación que sentimos las mujeres dedicadas a la ciencia, y específicamente a la Geología, no es una mera percepción subjetiva, sino que las cifras están ahí corroborando estas sensaciones. Los datos de distintos organismos y elaborados por distintas fuentes siempre indican una menor participación de las mujeres en los órganos de gestión, y una mayor dificultad para alcanzar los puestos de trabajo de niveles más altos. Esto es así a pesar de que el nº de licenciadas de ciencias supera al de los licenciados, pero a lo largo de la carrera profesional se produce una inversión que hace que las geólogas "se pierdan" por el camino. En este trabajo se presentan algunas de estas cifras con objeto de llamar la atención sobre la situación y discutir en la Mesa Redonda sobre las posibles soluciones.
Recent studies on women and science show that the perception that women are less visible and discriminated during their professional careers is real and can be demonstrated with data. This situation affects in particular to women geologists. Data from different sources and organisms indicate that women geologist participate less in decision-making committees and have more difficulties to reach the highest positions that their male colleagues. This occurs even considering that the number of women that finish their degrees in Geology is higher than the number of men. Along their professional career there is an inversion, in which women geologist are lost in the way to top positions. In this paper, we present some data in order to call the attention on this situation and to bring to the table a discussion on the possible measures to correct this situation.
Collections