Publication:
Seguridad y calidad de vida en pacientes con cáncer colorrectal no metastásico: 5-fluorouracilo frente a capecitabina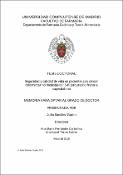 Files
Authors
Advisors (or tutors)
Editors
Publisher
Universidad Complutense de Madrid
Abstract
El cáncer colorrectal (CCR) es la neoplasia más frecuente del aparato digestivo y el tercer tumor de mayor incidencia a nivel mundial. Tras el diagnóstico de CCR hay que conocer la estadificación del mismo para poder emplear el mejor esquema terapéutico posible; en los estadios I y II el tratamiento es únicamente quirúrgico y, en los estadios II de alto riesgo y estadios III se complementa con quimioterapia adyuvante. Estos pacientes se benefician de la adición de oxaliplatino a 5-fluorouracilo de administración intravenosa o a capecitabina de administración oral como terapia adyuvante (esquemas FOLFOX y XELOX, respectivamente). De casi todos los fármacos que se emplean actualmente en el tratamiento del CCR estadio II y III hay aprobados y comercializados medicamentos genéricos, con su consiguiente ahorro económico. En el caso concreto de capecitabina, la aparición del medicamento genérico es más reciente, lo que implica que en la práctica clínica habitual puedan emplearse todavía ambas presentaciones, innovadora y genérica..
Colorectal cancer (CRC) is the most frequent neoplasm of the digestive system and the third most frequent tumour worldwide. After CRC diagnosis, it is necessary to know its staging in order to use the best possible regimen; in stages I and II the treatment is only surgical and, in high-risk stages II and stages III surgery is complemented with adjuvant chemotherapy. These patients benefit from the addition of oxaliplatin to 5-fluorouracil (intravenous administration) or capecitabine (oral administration) as adjuvant therapy (FOLFOX and XELOX regimens, respectively).Almost all the drugs used currently in the treatment of stage II and III CRC have their generic drug from several years involving an important economic saving. In the case of capecitabine, the generic drug is more recent, which implies that both, generic and brand-name drugs, can be used in routine clinical practice...
Description
Tesis de la Universidad Complutense de Madrid, Facultad de Farmacia, Departamento de Farmacia Galénica y Teoría Alimentaria, leída el 05-09-2018
Collections