Publication:
Facetas de la melancolía en la novela "Otoño" de Ali Smith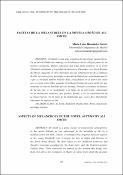 Authors
Advisors (or tutors)
Editors
Abstract
Ali Smith es una gran creadora de atmósferas melancólicas. En su novela "Otoño" nos sumerge en la añoranza de la vida por parte de un hombre centenario, Daniel; añoranza que toma tintes políticos en la joven Elisabeth, enfrentada a la pérdida de derechos y libertades en la Gran Bretaña del Brexit, pasando en otros momentos por las reminiscencias de la infancia de ella, así como por la nostalgia recurrente de Daniel por su hermana muerta y por la olvidada pintora Pauline Boty; encuadrados en el marco del otoño que se cierne sobre ellos, dejando sin embargo briznas de color desde las que remontar el entorno desolado que les atenaza. Procedo a examinar el abanico de facetas que se va modulando a lo largo de la narración, culminando en la melancolía moderna, que postula Bartra, y en la consideración de la transcripción con la tinta de la melancolía que, como dice Starobinski, transmuta la negrura en luz.
Ali Smith is a great creator of melancholic atmospheres. In her novel "Autumn" we are submerged in the nostalgia of life by a hundred years old man, Daniel. A nostalgia that acquires political aspects in the young Elisabeth, who is facing the loss of rights and liberties in the Brexit Great Britain. We then reflect on her childhood memories and Daniel's recurrent nostalgia for his dead sister and the forgotten painter Pauline Boty. These situations are framed by the autumn that hangs over them, but allows the emergence of shades of colour from which the desolate environment can be surmounted. I examine this kaleidoscope of melancholic aspects, which concludes with the modern melancholy, posited by Bartra, and the consideration of the transcription with the ink of melancholy that, as Starobinski says, transforms darkness into light.
Ali Smith est une grande créatrice d'atmosphères mélancoliques. Dans son roman "Automne", elle nous plonge dans la nostalgie de vivre éprouvée par un homme centenaire, Daniel. Cette nostalgie prend des teintes politiques lorsque la jeune Elisabeth est confrontée à la perte des droits et des libertés dans la Grande Bretagne du Brexit. Nous traversons aussi les réminiscences de son enfance et la nostalgie récurrente ressentie par Daniel pour la perte de sa sœur et de Pauline Boty, peintre oubliée. L'ensemble a pour cadre l'automne qui plane sur eux libérant cependant quelques fils de couleur, qui permettent de surmonter l'environnement désolé qui les tourmente. Je procède à examiner la palette de facettes qui peu à peu se modèle tout au long du récit et qui culmine avec la mélancolie moderne qu'énonce Bartra et avec la considération de la transcription dans l'encre de la mélancolie qui comme dit Starobinski transmute l'obscurité en lumière.
Collections