Publication:
Gestión del cambio en las organizaciones públicas. El caso de Petróleos de Venezuela (2005-2008)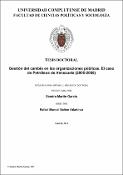 Files
Authors
Advisors (or tutors)
Editors
Publisher
Universidad Complutense de Madrid
Abstract
La gestión del cambio en las organizaciones públicas, es un área de conocimiento que experimenta transformaciones todos los días. Esta investigación trata de poner en valor y mostrar a la comunidad, una experiencia que se desarrolló en Venezuela, en la principal empresa pública, Petróleos de Venezuela entre los años 2005 y 2008, donde se dieron muchos cambios políticos, sociales y económicos. Para ello, primero se realiza una aproximación a las diferencias que existen entre la gestión pública y la gestión privada y cómo afecta a la gestión de los cambios en las organizaciones. En segundo lugar, se aborda el concepto de la "gestión del cambio" de forma genérica para pasar a contemplar los factores que inducen el cambio, así como qué otros elementos intervienen en los procesos de cambio y pueden tener una influencia decisiva en que la transición se produzca de una forma tranquila y sin tensión. La cultura organizativa, los valores, el compromiso, el liderazgo y otros estilos y habilidades gerenciales son elementos que pueden ejercer una influencia, o no, en la gestión de las transformaciones en las empresas públicas. Todo ello, para aproximarnos al objeto de estudio de esta investigación sobre la gestión del cambio en una empresa pública venezolana, Petróleos de Venezuela S.A. (PDVSA) y la delimitación del mismo. Se estudian los cambios producidos en una de las unidades de negocio de la petrolera, Exploración y Producción, tras la ejecución de una de las acciones que se llevaron a cabo para afrontar los cambios organizativos y culturales entre los años 2005 y 2008. Una acción que combina diferentes elementos, basada en el modelo 70 20 10 de aprendizaje, aprender haciendo, y que fue diseñada específicamente para apoyar a los gerentes de la empresa pública en el proceso de cambio. Uno de esos elementos es la formación de los niveles directivos de la organización en aquellas habilidades y destrezas diagnosticadas como las necesarias para fortalecer el proceso de cambio cultural, de valores y organizativo en el que la petrolera se encontraba y, neutralizar los efectos negativos de dicho cambio...
The management of change in public organizations is an area of knowledge that undergoes transformations everyday. This research intends to enhance and display to the community an experience that was developed in Venezuela, in the main state-owned company, Petróleos de Venezuela, between 2005-2008, a period when many political, social and economic changes took place. For this purpose, firstly an approximation to the existing differences between public and private management and how it affects the management of changes in the organization is performed. Secondly, the generic concept of "change management" is approached in order to consider the factors that induce that change as well as what other elements take action in the processes of change and can have a determining influence on a quite and no tension transition. The organizational culture, values, commitment, leadership and some other managerial skills are elements that can influence, or not, the management of changes in public companies. All this to approach to the subject of this research about the management of change in a Venezuelan public company, Petróleos de Venezuela S.A. (PDVSA) and its own delimitation. The changes produced in one of the Oil company BUs, Exploration and Production, were studied after the implementation of one of the actions carried out to face the organizational and cultural changes between 2005-2008. An action that combines several elements, based on the 70 20 10 learning model, learning by doing, and which was specifically designed to support public companies´ managers during the process of change. One of those elements is the training of the organization managerial levels in those skills and abilities diagnosed as essential in order to enhance the process of cultural, of values and organizational changes in which the oil company was engaged and to neutralize its possible negative impact...
Description
Tesis de la Universidad Complutense de Madrid, Facultad de Ciencias Políticas y Sociología, leída el 14/06/2017
Collections