Publication:
Incremento de CO2 en cuevas profundas asociado a sismicidad cercana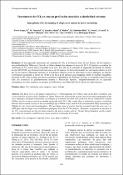 Advisors (or tutors)
Editors
Publisher
Sociedad Geológica de España.
Abstract
Se han registrado variaciones del contenido de CO2 en la Sima de Benis (Cieza, Murcia, SE de España), a una profundidad de 280m en la Sala de las Nubes durante los primeros 6 meses de 2015. El objetivo es analizar las variaciones de CO2 con la micro-sismicidad en la zona. Para ello, se ha colocado un registrador de dióxido de carbono de tipo SENSAIR cuya frecuencia de muestreo es de 40 minutos. Se ha correlacionado los incrementos diarios en este gas con terremotos, obteniendo aumentos en 24h de hasta 300 ppm sobre un valor total cercano a 2000 ppm, en relación a terremotos localizados a menos de 15 km de la boca de la cavidad, cuya magnitud estimó el Instituto Geográfico Nacional en M3. Esta cavidad, que afecta a materiales carbonatados del Prebético Externo, se desarrolla a partir de una falla con evidencias de paleoterremotos durante el Pleistoceno Superior. Independientemente de su capacidad sismogénica, los datos muestran un aumento en la difusión y movilidad del CO2 al tránsito de ondas sísmicas.
The Benis Cave is the deepest explored cave (-320m) affecting the Prebetic units of the Betic Cordillera, and it was related to an active fault. Evidence of Upper Pleistocene paleoseismic activity and the peculiar topography of the cave, hypogenic and fault-related halls, encouraged us to monitor the daily CO2 content in the air composition at depth (280m), and for a time period of six months during the early 2015. Our results show a preliminary positive correlation between micro-seismic activity in the surroundings (up to 60 km away), and the CO2 concentration (daily increasing till 300ppm for the closest microearthquakes). The maximum value of carbon dioxide recorded inside the cave was c.a. 2000 ppm, and the origin was established as pedogenic from the δ13 CO2 analysis. Therefore, we propose an increase in the CO2 concentration into the air karst related to the micro-seismic activity. Despite this preliminary worthy results, more data are needed to establish an accurate model for earthquake forecasting.
Collections