Publication:
Funcionalización con base estructural de nanopartículas virales derivadas del "Virus del mosaico del nabo" con fines biotecnológicos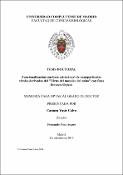 Files
Authors
Advisors (or tutors)
Editors
Publisher
Universidad Complutense de Madrid
Abstract
El empleo de virus en nanobiotecnología está cada vez más extendido, ya que su naturaleza proteica y su gran diversidad en forma, tamaño y origen los convierte en una buena herramienta biotecnológica. Dentro de este campo, los virus que únicamente infectan plantas cada vez toman mayor protagonismo debido a cuestiones de bioseguridad y producción, pudiendo emplearse en forma de nanopartículas virales, conocidas comúnmente como VNPs. Este tipo de nanopartículas consisten en una estructura proteica susceptible de derivatización, de manera que sus posibles aplicaciones son muy diversas, siendo las más desarrolladas las aplicadas al campo biomédico: herramientas hipersensibles para el diagnóstico, potentes agentes inmunizadores o soportes enzimáticos, entre otros...
The use of viruses in nanobiotechnology is expanding. Due to their proteinaceous nature and variety in size, shape and origin they are a useful biotechnological tool. Within this field, viruses that only infect plants are becoming important due to issues of biosafety and production. Specifically, elongated viruses are a good platform for viral nanoparticles development, commonly known as VNPs. These nanoparticles present a derivatizable protein structure, and their applications are diverse: hypersensitive diagnostic tools, powerful immunizing agents or enzymatic supports, among others. Turnip mosaic virus (TuMV) is a potyvirus with an elongated and flexible structure, able to produce two types of viral nanoparticles: virions (modified infective viruses) and "virus-like" particles (VLPs, lacking genetic material, therefore infectivity)...
Description
Tesis inédita de la Universidad Complutense de Madrid, Facultad de Ciencias Biológicas, leída el 27-06-2019
Collections