Publication:
Miopía y Vítreo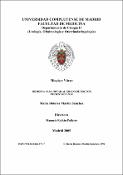 Files
Advisors (or tutors)
Editors
Publisher
Universidad Complutense de Madrid, Servicio de Publicaciones
Abstract
Hemos estudiado 200 ojos de 124 pacientes, agrupados en 5 grupos según el grado de miopía y hemos apreciado como al aumentar esta se produce un incremento en la longitud axial del ojo, así como de los diámetros corneales K1 y K2 en pacientes menores de 40 años.Igualmente hemos encontrado un incremento en la incidencia de lesiones de polo posterior y de las degeneraciones pavimentosa, B.S/P y baba de caracol en cuanto a lesiones de retina periférica en lo referente a los hallazgos vítreos, al aumentar la miopía se ha producido un incremento de la licuefacción, sinéresis y desprendimiento posterior de vítreo. Consideramos un ojo miope de riesgo a aquel comprendido entre las 6-15 dioptrias, entre los 20-40 años, con un DPV parcial o a aquel de las mismas dioptrias y edad, con degeneraciones en la capa interna y DPV completo.Igualmente consideramos una miopía patológica a aquella mayor de 6 dioptrias porque es a partir de ésta cuando hallamos cambios retinianos y vítreos que justifican dicha denominación
We have studied 200 eyes of 124 patients, grouped into 5 groups according to the degree of myopia and we have seen how increasing this produces an increase in the axial length of the eye, as well as the corneal diameters K1 and K2 in patients younger than 40 years Likewise, we have found an increase in the incidence of posterior pole injuries and pavement degenerations, BS / P and snail slime in terms of peripheral retinal injuries in relation to vitreous findings, as myopia has increased, there has been a increased liquefaction, syneresis and subsequent vitreous detachment. We consider a myopic eye at risk to one between 6-15 diopters, between 20-40 years of age, with a partial VPD or that of the same diopters and age, with degenerations in the inner layer and complete VPD. We also consider myopia pathological to that greater than 6 dioptres because it is from this when we find retinal and vitreous changes that justify this name
Description
Tesis de la Universidad Complutense de Madrid, Facultad de Medicina, Departamento de Cirugía II (Urología, Oftalmología y Otorrinolaringología), leída el 18-11-1994.
Collections