Publication:
Una perspectiva crítica de la construcción de la política exterior de Chile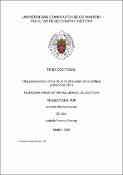 Files
Authors
Advisors (or tutors)
Editors
Publisher
Universidad Complutense de Madrid
Abstract
En América Latina, a inicios de la década de 1990, se observó una marcada tendencia hacia la convergencia económica e integración política entre los países de la región, lo cual fue alentado por el fin de las dictaduras militares y un contexto internacional caracterizado por la interdependencia económica y concertación política. No obstante, este consenso comenzó a erosionarse por distintos factores, entre los que se cuentan, el desarrollo de distintas opciones de política exterior a causa de la disparidad de intereses nacionales, el impacto de factores domésticos que han repercutido negativamente en los procesos de convergencia regional, y las características institucionales y liderazgos que han afectado las instancias de relacionamiento en América Latina. Si bien estos factores han sido profusamente estudiados, existen otras variables explicativas que han recibido una menor atención, las cuales se asocian a elementos subjetivos e ideacionales que constituyen las políticas exteriores de los países latinoamericanos. En este sentido, la divergencia regional se explicaría también por la inexistencia de un marco ideacional común en América Latina que permita la articulación de políticas externas. Esta carencia ideacional se explica por el bajo desarrollo de ideas en el campo de las relaciones internacionales y la política exterior, fenómeno atribuido a la primacía de un pensamiento práctico, asociado a que las figuras clave del pensamiento intelectual de las relaciones internacionales en la región, abandonaron la academia para convertirse en actores políticos...
In Latin America, at the start of the 90's, a marked trend towards economic convergence and political integration was seen among the countries of the region, encouraged by the end of the military dictatorships and an international context characterized by economic interdependence and political reconciliation. However, this consensus began to be eroded by different factors, including the development of different foreign policy options caused by a disparity in national interests, the impact of domestic factors which have had negative repercussions on the regional convergence processes, and the institutional characteristics and leadership which has affected relations in Latin America. Although these factors have been studied in depth, there are other explanations which have received less attention, explanations associated to subjective and ideational elements that make up the foreign policies of Latin American countries. In this sense, regional divergence could also be explained by the lack of a common ideational framework in Latin America that would allow the articulation of foreign policies. This ideational deficiency is explained by the limited development of ideas in the field of international relations and foreign policy, a phenomenon attributed to the primacy of practical thought, associated to the fact that key figures of intellectual thought related to international relations in the region, abandoned academia to become political players...
Description
Tesis inédita de la Universidad Complutense de Madrid, Facultad de Geografía e Historia, leída el 01-06-2017
Collections