Publication:
Estudio de la osteointegración y posibles alteraciones provocadas por el empleo de implantes dentales en hueso inmaduro. Estudio experimental en mini pigs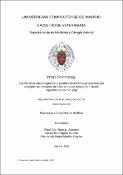 Files
Authors
Advisors (or tutors)
Muñoz Guzón, Fernando María
Editors
Publisher
Universidad Complutense de Madrid
Abstract
El empleo de implantes dentales se ha convertido en práctica habitual en la odontología humana actual, siendo su empleo cada vez más frecuente. Esto es debido tanto a los buenos resultados, como a la reducción de costes de esta técnica, lo que permite un mayor acceso al público general. El cerdo ha sido utilizado como modelo experimental en muchos trabajos de investigación, tanto en medicina humana como veterinaria. Hay multitud de artículos publicados que hacen referencia a su utilización en campos como la anestesia, traumatología, cardiología, odontología, etc. Actualmente en odontología los implantes osteointegrados tiene gran importancia y en la mayoría de los estudios se hace referencia casi en su totalidad al comportamiento de estos, en sus diferentes modalidades, en pacientes adultos con hueso maduro. Sólo algunas publicaciones recientes describen el empleo de estas técnicas en niños con casos graves de edentulismo. Por esta razón se planteó llevar a cabo este estudio en animales jóvenes sobre hueso inmaduro y de esta manera podría obtenerse información acerca de los problemas que podrían plantearse durante todo el proceso, desde su colocación hasta su posible osteointegración...
The use of dental implants has become common practice in human odontology, being its use increasingly extended. This is due to the increased implant success rate and the cost reduction trend of this technique, allowing wider access to more patients able to afford it. Pigs has been used as a subject in many research projects, both in human and veterinary medicine. There are many published articles that refer to it use in areas such as anesthesia, orthopedics, cardiology, dentistry, etc. Currently osseo-integrated dental implants are one of the key breakthroughs in odontology, but most of the studies referred almost entirely to the behavior of those, regardless the type, on adult patients with mature bone. Only some recent publications describe the use of these techniques in children with severe cases of edentulism. Due to the former, this study had its primary focus on young animals with immature bone and thus to obtain information about the problems that may arise throughout the process, from implementation to its potential osseo-integration...
Description
Tesis inédita de la Universidad Complutense de Madrid, Facultad de Veterinaria, Departamento de Medicina y Cirugía Animal, leída el 09/12/2015
Collections