Publication:
Moganite in the Chalcedony Varieties of Continental Cherts (Miocene, Madrid Basin, Spain)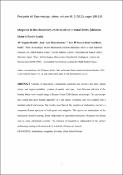 Advisors (or tutors)
Editors
Abstract
Varieties of chalcedony (calcedonite, quartzine, and lutecite) and other optical micro- and cryptocrystalline textures of quartz and opal from Miocene silcretes of the Madrid Basin were studied using a Thermo Fisher DXR Raman microscope. The microscope has a point-and-shoot Raman capability of 1 µm spatial resolution and was coupled with a standard optical microscope. Our results show that all the varieties of chalcedony can have a composite Raman spectrum of both quartz and moganite. The spectra are independent of the chalcedony origin by ageing, direct replacement, and cementation processes. Moganite was absent only in some calcedonite cements. The presence of moganite is independent of the surface sedimentary setting of the host rocks in which the silcretes are formed.
Collections