Publication:
El derecho humano a un medio ambiente sano y su aportación al desarrollo sostenible a través de las políticas de cooperación internacional para el desarrollo. El caso español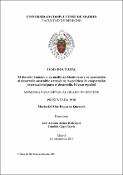 Files
Authors
Advisors (or tutors)
Editors
Publisher
Universidad Complutense de Madrid
Abstract
La Agenda 2030 de Desarrollo Sostenible se ha hecho eco, por primera vez, de las demandas tanto del desarrollo humano como de la sostenibilidad ambiental. Su puesta en marcha supone diversos retos, y se presenta como un momento propicio para la reflexión: por un lado, sobre el encaje conceptual entre desarrollo, sostenibilidad ambiental y derechos humanos, su evolución y significado actual; por otro, sobre la validez y la aportación que las políticas de cooperación internacional para el desarrollo pueden ofrecer al proceso. La presente investigación se plantea, en una primera parte teórica (capítulos 1, 2 y 3), la relación entre los problemas ambientales y el desarrollo, la consideración del medio ambiente desde los derechos humanos, y el surgimiento del derecho humano al medio ambiente sano. En la segunda parte, analizará la asimilación de los derechos humanos y de las consideraciones medioambientales en las políticas de cooperación para el desarrollo de los países donantes de la OCDE/CAD, a través del enfoque de derechos humanos, por un lado, y de la sostenibilidad ambiental, por otro. Para finalizar se profundizará en el caso de la cooperación española.
Agenda 2030 for Sustainable Development has voiced, for the first time, demands around both human development and environmental sustainability. Its implementation faces several challenges and it is regarded by this research as the right time to consider both how development, environmental sustainability and human rights fit together in terms of their conceptual evolution and current situation, and how development cooperation policies could serve as instruments to mainstream these concepts. The present research firstly presents a theoretical analysis (chapters 1, 2 and 3) of the relationship between environmental problems and development, the consideration of environmental issues from the human rights perspective and the emergence of the human right to a healthy environment. The second, mostly empirical part, analyzes the inclusion of human rights and environmental issues through the Development Assistance Committee (DAC) donor countries' development cooperation policies using both the human rights approach and environmental sustainability mainstreaming. The last chapter examines the case of Spanish cooperation.
Description
Tesis de la Universidad Complutense de Madrid, Facultad de Derecho, leída el 06-11-2018
Collections